BELLATOR MMA RETURNS TO HAWAII FOR A STACKED DOUBLE-HEADER WITH EVENTS ON FRIDAY, APRIL 21 AND SATURDAY, APRIL 22
Post on , under News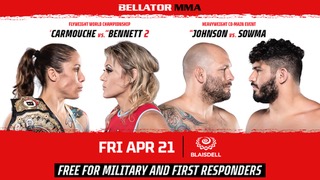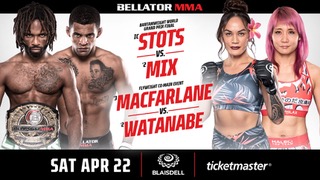 FLYWEIGHT WORLD CHAMPION AND UNITED STATES MARINE LIZ CARMOUCHE DEFENDS HER TITLE IN REMATCH AGAINST NO. 4 RANKED DEANNA BENNETT AT BELLATOR 294 ON FRIDAY, APRIL 21

BELLATOR 295 ON SATURDAY, APRIL 22 WILL SEE THE CONCLUSION OF THE BELLATOR BANTAMWEIGHT WORLD GRAND PRIX WHEN INTERIM CHAMPION RAUFEON STOTS MEETS NO. 2 RANKED PATCHY MIX AND OAHU'S OWN NO. 3-RANKED ILIMA-LEI MACFARLANE RETURNS HOME TO FACE NO. 2-RANKED KANA WATANABE

TICKETS ON SALE THIS FRIDAY, FEB. 17

LOS ANGELES – BELLATOR MMA has announced its annual return to the Hawaiian island of Oahu, where Honolulu's Neal S. Blaisdell Arena will play home to a pair of events on back-to-back nights Friday, April 21 and Saturday, April 22. Both cards air LIVE in the United States on SHOWTIME at 10 p.m. ET/7 p.m. PT/4 p.m. local HST.

BELLATOR 294: Carmouche vs. Bennett 2 on Friday is headlined by a Women's Flyweight World Championship main event rematch pitting current champion and U.S. Marine Liz Carmouche (18-7) against No. 4 ranked flyweight challenger, DeAnna Bennett (13-7-1). In the evening's co-main event, No. 6-ranked heavyweight and Minnesota National Guardsman Tim Johnson (15-9) will compete against Said Sowma (8-4). A women's featherweight contest featuring former UFC title challenger Sara McMann (13-6), who makes her highly anticipated BELLATOR debut against former No. 1 contender, Arlene Blencowe (15-9).

BELLATOR 295: Stots vs. Mix on Saturday is main evented by the Finals of the BELLATOR Bantamweight World Grand Prix, which will see current Interim Champion Raufeon Stots (19-1) face No. 2-ranked Patchy Mix (17-1). In the co-main event, the pride of Honolulu, No. 3-ranked Ilima-Lei Macfarlane (12-2) looks to defend home turf against Japan's No. 2-ranked Kana Watanabe (11-1-1)

The preliminary portion of Saturday's BELLATOR 295: Stots vs. Mix event also features multiple confirmed marquee fights. First, a heavyweight pairing pitting Davion Franklin (5-1) versus Kasim Aras (7-1), as well as a pair of 155-pound scraps seeing Yancy Medeiros (16-8, 1 NC) face Charlie Leary (17-13-1) and Maui's Bobby King (12-5) going up against Aalon Cruz (10-4) are official. At featherweight, Keoni Diggs (10-2) returns to action against Brazil's Weber Almeida (7-1), and Kai Kamaka III (10-5-1) returns to Hawaii to compete against Adli Edwards (9-2). Lastly, in a women's flyweight contest, undefeated No. 9-ranked Sumiko Inaba (5-0) meets former title challenger and No. 7-ranked Veta Arteaga (7-4).

The preliminary fights will stream live on the BELLATOR MMA YouTube channel, SHOWTIME Sports YouTube channel and Pluto TV. BELLATOR 294 preliminary action will begin at 8 p.m. ET/5 p.m. PT/2 p.m. HST, while the BELLATOR 295 prelims begin at 7 p.m. ET/4 p.m. PT/1 p.m. HST. The complete bout listing for both events can be found below.

TICKETS:

Friday night's BELLATOR 294: Carmouche vs. Bennett 2 event is being held in honor of America's Military, Veterans and First-Responders, all of whom are eligible to attend the event with a guest for free entry the day of with valid proof of ID. Free admission is based on a limited capacity and available on first come-first serve basis.

Tickets for BELLATOR 295: Stots vs. Mix go on sale Friday, Feb. 17, and are available at Ticketmaster and Bellator.com. A special presale will take place starting Thursday, Feb. 16.

BELLATOR 294

Headlining Friday night's BELLATOR 294 event, undisputed flyweight champion Liz "Girlrilla" Carmouche will aim to earn her second world title defense and sixth straight victory in a rematch with DeAnna Bennett. At 38, the pioneering Carmouche has proven that age is just a number; the Marine Corps veteran has won seven of her last eight, including all five of her BELLATOR outings — four of which came by finish. The San Diego-based titleholder closed out her 2022 campaign with a bang, shutting the door on her saga with Juliana Velasquez with a dominant second-round armbar submission victory at BELLATOR 289. In Hawaii, Carmouche will look to continue her resurgent dominance with another opportunity to turn away a former vanquished foe: the No. 2-ranked pound-for-pound talent will rematch Bennett with the world title on the line after previously submitting her in the third round of their BELLATOR 246 matchup in September 2020.


In what will be her first chance at wrapping the BELLATOR world title around her waist, No. 4-ranked flyweight DeAnna "Vitamin D" Bennett hopes that she will be the first in the promotion able to defeat Liz Carmouche when the cage door closes in Hawaii. Also 38, Bennett has fought a who's who of flyweights and strawweights during her decade-plus career, but she has hit her stride in BELLATOR since moving her training to Marquez MMA and Daniel Gracie Team in Philadelphia. On the strength of three straight victories over Alejandra Lara and Justine Kish twice, Bennett believes that the time is now to exact revenge on Carmouche, keep her winning streak intact, and become a world champion inside the BELLATOR cage.

A staple of BELLATOR's heavyweight division since 2018, the intimidating Tim Johnson will look to pick up his fourth victory with the promotion in defense of his No. 6 ranking in the weight class. The 37-year-old holds victories over two current Top 10 contenders in No. 4-ranked Cheick Kongo and No. 9-ranked Tyrell Fortune. In Hawaii, he hopes to add another younger talent to his résumé when he faces off with Said Sowma in a matchup of powerful bruisers.


Looking to take Johnson's place among the upper echelon of the BELLATOR heavyweight division is Sowma, a proven finisher who holds victories over notable veterans in former world champion Vitaly Minakov and Ronny Markes. The American Top Team product trains daily with many of the sport's top fighters and has won eight of his last eleven outings. At 31, he believes his time to enter the divisional rankings is quickly approaching, and against Johnson in Hawaii, he will have the chance to do just that.

No. 2-ranked women's featherweight contender Arlene "Angerfist" Blencowe is coming off her third crack at the World Featherweight Championship and second fight against Cris Cyborg. Since her BELLATOR debut in 2015, the 39-year-old has been a staple of the featherweight division and developed a reputation as a powerful puncher. The recordholder for most BELLATOR fights, wins, and knockouts at featherweight, the Australian will look to spoil the promotional debut of McMann with a triumphant win in Hawaii.

In her BELLATOR debut, former Olympic Games wrestling silver medalist and Bantamweight World Championship title challenger Sara McMann will win her second consecutive fight and make an immediate impact in the featherweight division against Blencowe. The National Wrestling Hall of Fame inductee will compete at 145 pounds for the first time in her storied combat sports career on April 21 as she begins her tenure with BELLATOR. Holding career victories over the likes of No. 9-ranked UFC Karol Rosa and world title challengers Jessica Eye, Lauren Murphy, and Tonya Evinger, McMann will look to assert her claim as a BELLATOR title contender in Hawaii.

BELLATOR 295

Fresh off his vindicating decision victory over heated rival Danny Sabatello, Interim Bantamweight Champion Raufeon "Supa" Stots will compete for $1,000,000 and the BELLATOR Bantamweight World Grand Prix tournament championship against Patchy Mix on the second night of BELLATOR MMA's annual action in Hawaii. The 34-year-old has established himself as one of the top competitors in all mixed martial arts, and he hopes to secure a showdown with friend and teammate, undisputed champion Sergio Pettis, with a winner over Mix. BELLATOR's No. 9-ranked pound-for-pound talent has won 11 straight fights, including all his outings under the BELLATOR banner. The Houston native will seek to earn a life-changing payday and win one of the most difficult tournaments in all of sports in this marquee main event in Hawaii.


One of mixed martial arts' most prolific submission artists, Patchy "No Love" Mix will put his four-fight winning streak on the line when he challenges Stots for the interim title, $1,000,000, and the Grand Prix tournament championship. Mix, 29, became a household name with victories over former BELLATOR and RIZIN champion Kyoji Horiguchi and perennial contender Magomed Magomedov in successive tournament matchups, and he will now get the opportunity of a lifetime in Hawaii against Stots. The Jackson-Wink MMA product has looked every part the future champion, and with this can't-miss Grand Prix final, he has the chance to catapult himself into superstardom and set up a unification super-fight against reigning titleholder Sergio Pettis with $1,000,000 in the bank.

It should come as no surprise that Hawaii's greatest female mixed martial artist, Ilima-Lei "The Ilimanator" Macfarlane will feature on BELLATOR's return to "The Aloha State." The former flyweight champion and one of the longtime faces of BELLATOR battles Japan's Kana Watanabe in a compelling clash of Top 5 contenders. Macfarlane, 32, will look to build upon the momentum earned from her BELLATOR 284 victory over Brazil's Bruna Ellen in August with a dominant performance against Watanabe in her native Hawaii. Now ranked No. 3 in the division, Macfarlane hopes to set up a showdown with friend and reigning champion Liz Carmouche; but first, she must get past a dangerous opponent in Kana Watanabe.


Though she will be entering hostile territory by taking on Macfarlane in Hawaii, Kana Watanabe will be eager to cement herself as the consensus pick to challenge for the flyweight title after Carmouche and Bennett go head-to-head one night prior. The 34-year-old has been nearly flawless in her professional MMA career, save for a loss to Carmouche at BELLATOR 261 in 2021. Notably, the No. 2-ranked BELLATOR flyweight has earned a reputation as a finisher; she submitted kickboxing standout Denise Kielholtz in her last outing at BELLATOR 281, and she finished tough Brazilian Ilara Joanne with ground strikes at BELLATOR 237 for her BELLATOR debut in 2019. Watanabe will look to deny the Hawaiian fans the satisfaction of a hometown win from Macfarlane as she hopes to punch her ticket to a title fight in this consequential flyweight matchup.

BELLATOR 294: CARMOUCHE VS. BENNETT 2 MAIN CARD:

Friday, April 21 – live on SHOWTIME

10 p.m. ET/7 p.m. PT/4 p.m. HST (local)

Flyweight World Title Bout: C-Liz Carmouche (18-7) vs. #4DeAnna Bennett (13-7-1)

Heavyweight Co-Main Event: #6-Tim Johnson (15-9) vs. Said Sowma (8-4)

Featherweight Bout: #2-Arlene Blencowe (15-9) vs. Sara McMann (13-6)

BELLATOR 295: STOTS VS. MIX MAIN CARD:

Saturday, April 22 – live on SHOWTIME

10 p.m. ET/7 p.m. PT/4 p.m. HST (local)

Bantamweight World Grand Prix Final: IC-Raufeon Stots (19-2) vs. #2-Patchy Mix (17-1)

Flyweight Bout: #3-Ilima-Lei Macfarlane (12-2) vs. #2-Kana Watanabe (11-1-1)

BELLATOR 295: STOTS VS. MIX PRELIMINARY CARD:

BELLATOR MMA YouTube channel | SHOWTIME Sports YouTube channel | Pluto TV

7 p.m. ET/4 p.m. PT/1 p.m. HST (local)

Heavyweight Bout: Davion Franklin (5-1) vs. Kasim Aras (7-1)

Lightweight Bout: Yancy Medeiros (16-8, 1 NC) vs. Charlie Leary (17-13-1)

Lightweight Bout: Bobby King (12-5) vs. Aalon Cruz (10-4)

Featherweight Bout: Keoni Diggs (10-2) vs. Weber Almeida (7-1)

Featherweight Bout: Kai Kamaka III (10-5-1) vs. Adli Edwards (9-2)

Flyweight Bout: #9- Sumiko Inaba (5-0) vs. #7- Veta Arteaga (7-4)

*Card subject to change.

Please visit Bellator.com for additional information.

Updated Schedule of BELLATOR Events

Sat. Feb. 25 // BELLATOR 291: Amosov vs. Storley 2 // 3Arena // Dublin, Ireland

Fri. Mar. 10 // BELLATOR 292: Nurmagomedov vs. Henderson // SAP Center // San Jose, CA

Fri. Mar. 31 // BELLATOR 293: Golm vs. James // Pechanga Resort Casino // Temecula, CA

Fri. Apr. 21 // BELLATOR: 294: Carmouche vs. Bennett // Blaisdell Arena // Honolulu, HI

Sat. Apr. 22 // BELLATOR: 295: Stots vs. Mix // Blaisdell Arena // Honolulu, HI

Fri. May 12 // BELLATOR 296: Mousasi vs. Edwards // Accor Arena // Paris, France

****

BELLATOR MMA is a leading global mixed martial arts organization featuring many of the best fighters in the world. Under the direction of veteran fight promoter Scott Coker, BELLATOR events take place in major cities worldwide and can be seen on television in over 160 countries to an available audience of over one billion people. In the United States, BELLATOR can be seen on SHOWTIME. BELLATOR is comprised of an executive team that includes top industry professionals in television production, live event orchestration, fighter development/relations, venue procurement, sponsorship creation/development, international licensing, marketing, advertising, publicity, and commission relations. BELLATOR is based in Hollywood, Calif. and owned by entertainment giant Paramount, home to the world's premier entertainment brands that connect with audiences through compelling content across television, motion picture, online and mobile platforms.

Showtime Networks Inc. (SNI), a wholly owned subsidiary of Paramount, owns and operates the premium service SHOWTIME®, which features critically acclaimed original series, provocative documentaries, box-office hit films, comedy and music specials and hard-hitting sports. SHOWTIME is available as a stand-alone streaming service across all major streaming devices and Showtime.com, as well as via cable, DBS, telco and streaming video providers. SNI also operates the premium services THE MOVIE CHANNEL™ and FLIX®, as well as on demand versions of all three brands. SNI markets and distributes sports and entertainment events for exhibition to subscribers on a pay-per-view basis through SHOWTIME PPV®. For more information, go to www.SHO.com.