ELLATOR MMA TO RETURN TO PARIS ON FRIDAY, MAY 12 AT ACCOR ARENA FOR A BLOCKBUTER EVENT FEATURING FORMER CHAMPION GEGARD MOUSASI AGAINST UK STAR, NO. 2 CONTENDER FABIAN EDWARDS
Post on , under News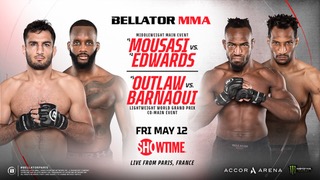 NO. 5 RANKED SIDNEY OUTLAW TO FACE PARIS' OWN MANSOUR BARNAOUI IN MILLION-DOLLAR BELLATOR LIGHTWEIGHT WORLD GRAND PRIX QUARTERFINAL CO-MAIN EVENT

Los Angeles — BELLATOR MMA today announced its third visit to Paris, France, with a momentous middleweight main event between former BELLATOR Middleweight Champion Gegard "The Dreamcatcher" Mousasi (49-8-2) and No. 2-ranked Fabian "The Assassin" Edwards (11-2) slated for Friday, May 12. BELLATOR Paris: Mousasi vs. Edwards will take place at the Accor Arena and will be televised live in America on SHOWTIME at 10 p.m. CEST/4 p.m. ET.
In the co-main event, No. 5-ranked Sidney "Da Gun" Outlaw (16-5) steps into enemy territory against Paris-based standout Mansour "Afro-Samurai" Barnaoui (20-4) in an opening round, quarterfinal matchup of the million-dollar BELLATOR Lightweight World Grand Prix.
Tickets for the event are on sale now and can be purchased at accorarena.com and bellator.fr.
Preliminary card action has begun to take shape with a pair of lightweight bouts featuring Manchester, England's Saul Rogers (15-5) and Kane Mousah (14-4) taking on Frenchmen Davy Gallon (21-8-2) and Thibault Gouti (16-6) respectively. The prelims will stream live on the BELLATOR MMA YouTube channel, SHOWTIME Sports YouTube channel, and Pluto TV beginning at 6 p.m. CEST/12 p.m. ET.
Gegard Mousasi is one of mixed martial arts' most decorated active competitors. The former BELLATOR, Strikeforce, DREAM, and Cage Warriors champion will be eager to return to the win column on May 12 after dropping his title to Johnny Eblen at BELLATOR 282 in June. Under the BELLATOR banner, Mousasi has amassed two middleweight title reigns, three title defenses, and a stellar 9-2 promotional record replete with four knockouts. Mousasi, now the No. 1-ranked middleweight contender in BELLATOR, squares off with a surging Fabian Edwards in Paris for what promises to be one of the most consequential middleweight fights of 2023 at the AccorHotels Arena.
Buoyed by the world title victory of his brother, Leon Edwards, Fabian Edwards believes that 2023 is the year that he will see BELLATOR gold wrapped around his waist. A win over a living legend in Gegard Mousasi would place "The Assassin" firmly in control of that destiny; Edwards has won back-to-back fights over Charlie Ward and former world champion Lyoto Machida, whom he finished viciously with strikes in the first round of their May 2022 matchup. The 29-year-old standout hopes he can add Mousasi's name to his burgeoning résumé as he headlines BELLATOR's third trip to Paris this May with title contention beckoning.
Fighting out of American Top Team in South Florida, the 30-year-old Sidney Outlaw's rise to the upper echelon of BELLATOR's premier lightweight division from personal struggle is as inspiring a path to the Lightweight World Grand Prix as anyone's. With three wins in his last five fights, including notable victories over Roger Huerta, Adam Piccolotti, and Myles Jury, Outlaw will look to work his way back to a title shot through this tournament and the road to BELLATOR gold begins on May 12 opposite Barnaoui.
Paris' Mansour Barnaoui was one of BELLATOR's biggest signings in 2022, and for good reason. The Tunisian-born Frenchman formerly won titles in ROAD FC, M-1 Challenge, and BAMMA, and he demonstrated his world-class abilities in his BELLATOR debut in October with a second-round rear-naked choke of veteran Adam Piccolotti at BELLATOR 287 in Milan. Barnaoui will bring his outstanding 95% stoppage rate and an eight-fight winning streak into this matchup with Sidney Outlaw as part of the Lightweight World Grand Prix's opening round, and he will hope to continue his finishing ways in what would be a stark warning to the rest of the tournament field.
BELLATOR PARIS: MOUSASI VS. EDWARDS MAIN CARD:
SHOWTIME
May 12 — 10 p.m. CEST/9 p.m. BST/4 p.m. ET/1 p.m. PT
Middleweight Main Event: #1-Gegard Mousasi (49-8-2) vs. #2-Fabian Edwards (11-2)
Lightweight World Grand Prix Co-Main Event: 5-Sidney Outlaw (16-5) vs. Mansour Barnaoui (20-4)
BELLATOR PARIS: MOUSASI VS. EDWARDS PRELIMINARY CARD:
BELLATOR MMA YouTube channel | SHOWTIME Sports YouTube channel | BBC iPlayer (U.K.) | Pluto TV
6 p.m. CEST/5 p.m. BST/12 p.m. ET/9 a.m. PT
Lightweight Bout: Saul Rogers (15-5) vs. Davy Gallon (21-8-2)
Lightweight Bout: Thibault Gouti (16-6) vs. Kane Mousah (14-4)
# # #
Apply for BELLATOR media credentials
RSVP for BELLATOR virtual media availabilities
For more information on upcoming BELLATOR MMA events, visit BELLATOR.com.
Updated Schedule of BELLATOR Events
Fri. Feb. 4 // BELLATOR 290: Bader vs. Emelianenko 2 // Kia Forum // Los Angeles, CA
Sat. Feb. 25 // BELLATOR 291: Amosov vs. Storley 2 // 3Arena // Dublin, Ireland
Fri. March 10 // BELLATOR 292: Nurmagomedov vs. Henderson // SAP Center // San Jose, CA
Fri. May 12 // BELLATOR PARIS: Mousasi vs. Edwards // Accor Arena // Paris, France
About BELLATOR:
BELLATOR MMA is a leading global mixed martial arts organization featuring many of the best fighters in the world. Under the direction of veteran fight promoter Scott Coker, BELLATOR events take place in major cities worldwide and can be seen on television in over 160 countries to an available audience of over one billion people. In the United States, BELLATOR can be seen on SHOWTIME. BELLATOR is comprised of an executive team that includes top industry professionals in television production, live event orchestration, fighter development/relations, venue procurement, sponsorship creation/development, international licensing, marketing, advertising, publicity, and commission relations. BELLATOR is based in Hollywood, Calif. and owned by entertainment giant Paramount, home to the world's premier entertainment brands that connect with audiences through compelling content across television, motion picture, online and mobile platforms.
About SHOWTIME:
Showtime Networks Inc. (SNI), a wholly owned subsidiary of Paramount, owns and operates the premium service SHOWTIME®, which features critically acclaimed original series, provocative documentaries, box-office hit films, comedy and music specials and hard-hitting sports. SHOWTIME is available as a stand-alone streaming service across all major streaming devices and Showtime.com, as well as via cable, DBS, telco and streaming video providers. SNI also operates the premium services THE MOVIE CHANNEL™ and FLIX®, as well as on demand versions of all three brands. SNI markets and distributes sports and entertainment events for exhibition to subscribers on a pay-per-view basis through SHOWTIME PPV®. For more information, go to www.SHO.com.