ONE WORLD UNDER ANTHONY JOSHUA
Post on , under News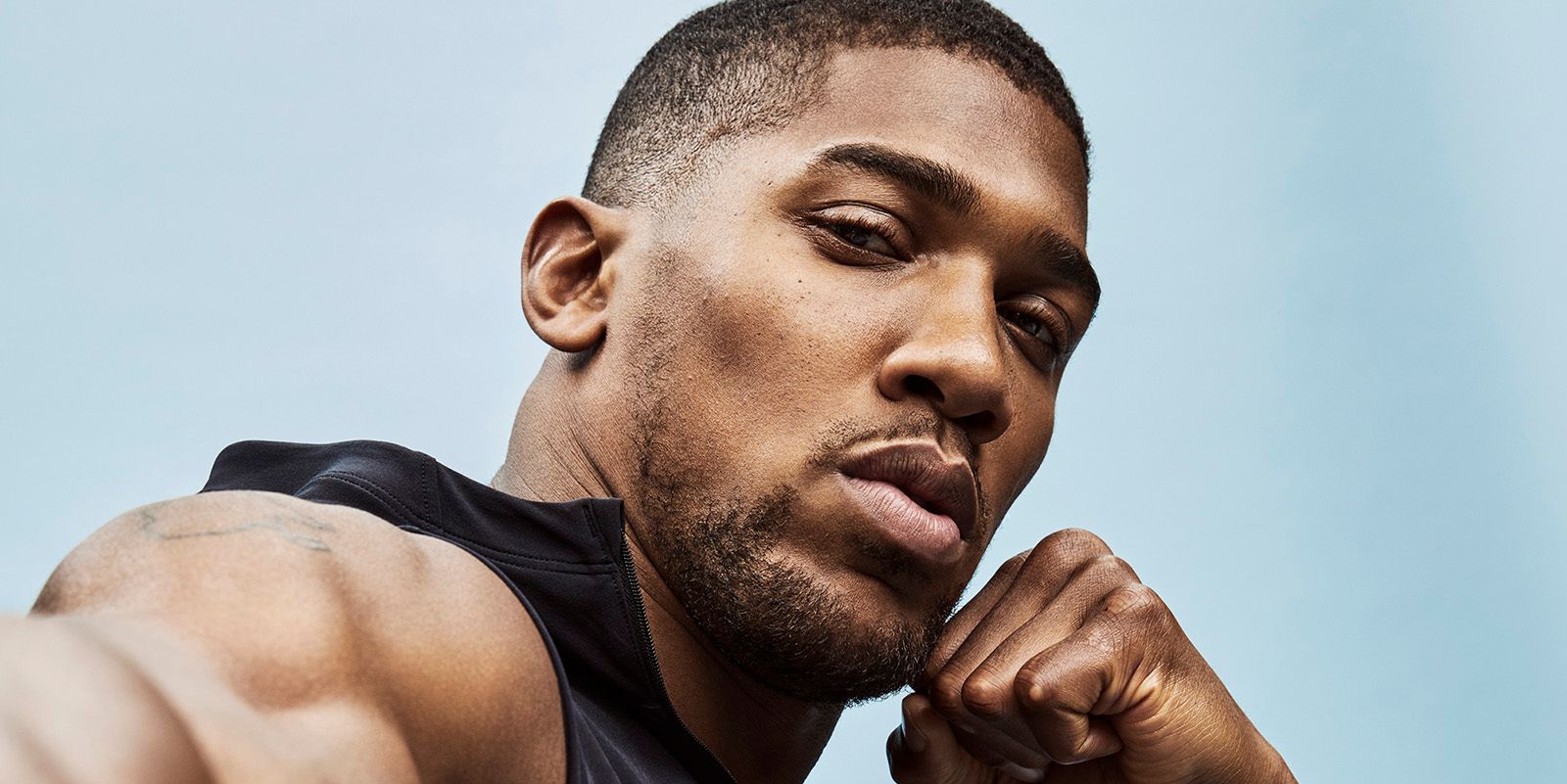 WILLIAMS & HIRAKAWA FOR ESPN
He's adored in the U.K., envied by foes and on brand everywhere. The next step in the unified heavyweight champ's global domination plan? Winning in -- and over -- America.
BY DOTUN AKINTOYE
03/21/19
On a February morning in the London suburb of Barnet, about 30 youngsters, ages 9 to 14, are gathered in the Finchley Amateur Boxing Club. Across the hardwood floor, opposite the two rings that crowd the far wall from the entrance, is a small gallery of parents who mostly appear tired and uninterested -- though one or two dads wander the gym and hover over their sons, cellphones out recording, looking too satisfied.
"Where's the funeral?" Sean Murphy, a slight man with thinning white hair, shouts at the parents from a row of heavy bags, where he is instructing pupils in elementary combinations. Some of the adults look up from their phones long enough to laugh.
In the larger of the two rings, under a big sign that reads "Finchley Boxing Club Sponsored by Anthony Joshua," a dozen or so students are taking turns sparring in one-minute rounds. They look like a row of figurines, in their headgear and gloves, stepping into the center of the ring two at a time to learn what their bodies can and can't do, the first inchoate traces of technique. Some already have pet moves, but mostly they're flailing and lunging. What they're really learning is whether they're afraid.
After about an hour, the session ends, and Murphy takes me into his tiny office in a back corner of the building. He sits, feet dangling, on the edge of a small desk while I stand in the doorway, about a yard between us. Murphy opens a little filing cabinet and produces a stack of valentines addressed to Anthony Joshua. This is the gym where his career began, and Murphy was his first coach. Joshua still visits often.
More ESPN The Magazine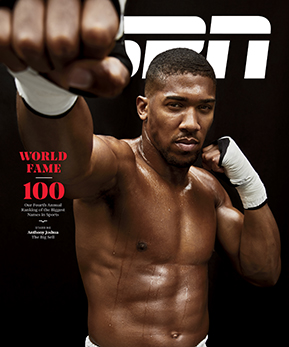 Still craving the spotlight? Check out our full list of the world's 100 most famous athletes.
No. 1: Cristiano Ronaldo: In the spotlight, out of reach
No. 63: One World Under Anthony Joshua
No. 99: Bryce Harper is One Very Big Deal
Rising star: The One and Only Naomi Osaka
"I love you so much honey!" one card says. It sounds childlike, except for the "honey." It's equally hard to tell whether the other valentines were made by adolescents or adults -- the penmanship is a combination of neat cursive and block letters filled in with pink highlighter; they feature doodles, cut-out and glued images of a shirtless Joshua, and hundreds of hearts.
From afar, the object of this affection, Joshua, the 29-year-old undefeated unified heavyweight champion of the world, projects a sort of blank universal appeal. He is at home everywhere. The perfect smile, a jaw from central casting, 6-foot-6 and typically weighing 240 pounds, a physique so perfectly sculpted it doesn't even provoke insecurity but rather, like an exquisite statue, awe. His broadcast partners speak unselfconsciously of Joshua's impending American debut as the next stage in "AJ's global domination plan." "The Tiger Woods of boxing," he's been called. "A shining light," said an apparel CEO. "George Clooney," said a TV executive. "An Adonis," says his promoter. It is not possible that Joshua can live up to this -- but it is likely that he'll try.
The valentines reminded me of something Adam Smith, a TV commentator in the U.K., said to me last spring in Cardiff, Wales. Smith was searching for a way to explain Joshua's appeal. His voice vaguely reminiscent of Robin Leach's, he said: "My 11-year-old wants to marry him. My mother wants to marry him."
---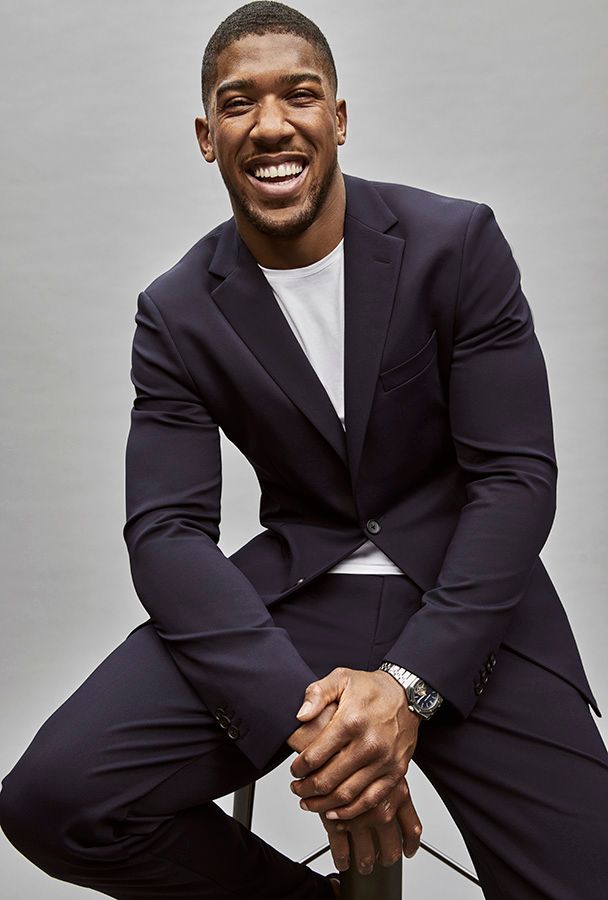 Joshua credits his gregarious disposition to his upbringing as the son of Nigerian immigrants in Watford, England. "I embraced so many cultures growing up that I feel like I can mix among many different people," he says. WILLIAMS & HIRAKAWA FOR ESPN
OVER TWO DAYS last summer, on the tail end of a U.S. publicity trip during which the boxer visits Conan O'Brien and sits courtside at a Warriors game, I see the Joshua charm offensive up close.
His last obligation is an Under Armour promotional shoot with Michael Phelps at the Phoenix Swim Club in Paradise Valley, Arizona. Joshua shows up around 10 a.m., a few minutes early, accompanied by a small retinue of close friends and associates. Phelps arrives a few minutes later with his wife and their young child.
The prearranged photo-op-cum-swim-lesson is an opportunity to see Joshua exert his charisma. The hang has hardly begun before the champ, hands held in front of his chest, palms out, coaxes the 28-time Olympic medalist into a little jab-jab-right-cross drill. Soon he and Phelps are commiserating like old friends, swapping stories and making bets on how much of a head start Joshua would need to beat Phelps in a down-and-back race. (An entire pool length, it turns out -- when they finally race.)
Joshua credits his gregarious disposition to his upbringing as the son of Nigerian immigrants in Watford, England. Raised alongside his six siblings, Joshua grew up thinking of himself as Nigerian and went by his Yoruba middle name, Femi (short for Oluwafemi), when he was younger. He tells me kids in Watford were separated by their ethnic backgrounds and had to learn to ingratiate themselves in places where they felt they didn't belong. "No one called a Pakistani living down the road an Englishman," he says. "We called him a Pakistani. No one called me an Englishman, they called me an African or a black guy." Learning to feel British, to be thought of as British and to think of oneself as British was a rite of passage. "It made me who I am," he says. "I embraced so many cultures growing up that I feel like I can mix among many different people."
Joshua is adept at gestures of intimacy: the clap on your back to punctuate mirth, the hand placed on your knee or shoulder to drill down on an explanation, the "You all right?" asked in a tone that suggests he'd be willing to hear about your entire day, the sharp counter-question to demonstrate how closely he's been paying attention, the uproarious laughter that assures you no one else has ever amused him so. He does this repeatedly, to business executives, hotel concierges, photographers, makeup artists, trainers, drivers, fans, Phelps, me.
He woos with a look, a touch, a word that says: You know me.
But, of course, we don't.
---
Joshua knocked out former heavyweight champion Wladimir Klitschko in the 11th round of a 2017 bout at Wembley Stadium to retain his IBF belt, add the WBA title and officially introduce himself to an American audience. BRENDAN MORAN/SPORTSFILE/GETTY IMAGES
JOSHUA'S ORIGIN STORY is typical of fighters -- bad boy made good. As a kid, he was running the streets, hustling, at one point banned from his hometown city's center. Joshua's cousin Gbenga was already training at Finchley, and Joshua would stick around and watch after giving his cousin a ride to the gym, eventually taking an interest himself. The first time Murphy met Joshua, the 18-year-old was wearing an ankle tag after a series of run-ins with the police.
"I wasn't a petty criminal," Joshua says, reclined on a couch awaiting a photo shoot in Portland, Oregon, last spring. We're sitting side by side in a studio, people rushing back and forth to prepare as the champ idly uses a business card to file under his nails, which are, of course, in perfect order. He launches into a jaunty, breathless Guy Richie-esque monologue about the fine margins of eking out a profit on the street:
"OK, Andy wants a pair of trainers, and I know someone that can get them. I know that the markup on trainers goes for 12, but I know I can get them for six. But I'ma give them to Andy for 10, knowing that I want to undercut a market. And he's going to tell his friend that he can get it for 11. But then knowing that I now get two, my price at six turns to five and a half, but he don't need to know that. I get three, then it turns to five. But now you're taking three, because now I'm three-quarters in more profit. I can knock Andy's quarter down, so I'm still half up, but I've knocked Andy's down, so he's now happy, now he's getting himself another four. It's just opportunity, innit? Supply and demand, that's what I was in the business of."
In 2011, Joshua was arrested for marijuana possession with the intent to sell and was temporarily suspended from the British team. Aha! moment behind him, he won gold a year later at the London Olympic Games and became an instant star in the U.K. In 2013, he turned pro.
Joshua's early professional fights tended toward technical stoppages instead of spectacular knockouts. If he was a little unpolished -- a tendency to squat down and lower his head to the level of shorter opponents, for example -- his talent and athleticism were obvious. He gave the impression one wants from a talented young fighter -- namely, the sense that his opponents didn't belong in the ring with him, had been duped, were in danger. None of his first 14 challengers made it past the third round.
In Joshua's professional debut, against Emanuele Leo in 2013, the ring announcer declared Joshua the "future people's champ," before he had thrown a punch, the hype market sensing that it had on its hands a shiny new commodity in boxing's moribund glamour division.
Boxing has long lost its place at the center of American sporting life, in part because of its own endemic corruption and balkanized structure, its usurpation by the financial growth of the NFL and NBA, and its move from network TV to the pay-per-view model. But the 21st century has been especially unkind to heavyweight boxing. The two best heavyweights since 2000 have been the Klitschko brothers, Wladimir and Vitali, who fought mainly in Europe; besides Vitali's loss to Lennox Lewis in 2003, they faced no one who registers historically.
Here's a short list of men who held one of the four major heavyweight belts this century: Charles Martin, Bermane Stiverne, Ruslan Chagaev, Oleg Maskaev, Samuel Peter. There are more distinguished grocery lists.
Detached from its American progenitors, the lineage of Johnson and Dempsey and Louis and Ali and Tyson, heavyweight boxing suffered a lack of prestige, attention and money. It was desperate for an Anthony Joshua to come along.
He has ascended, in just over five years, to unified heavyweight champion of the world, holder of the IBF, WBO and WBA (super) belts and the less regarded IBO belt. The only belt he doesn't hold, the WBC title, belongs to American Deontay Wilder. Joshua and Wilder have been circling each other for two years, waging a propaganda campaign in the media, angling for the upper hand in the biggest possible matchup in boxing, a chance to become the first undisputed heavyweight champion of the world since Lennox Lewis at the turn of the century.
n the U.K., Joshua has already achieved the status of a legacy music act. His past four fights have been in Wembley Stadium in London or the Principality Stadium in Cardiff, in front of crowds totaling more than 300,000. Joshua's 2017 confrontation with Wladimir Klitschko -- when he knocked the veteran down, only to get dropped himself before rallying to stop Klitschko in front of 90,000 people at Wembley -- was televised in the U.S. by both Showtime and HBO, only the third time the two networks have co-hosted a fight. The other two were Mayweather-Pacquiao and Lewis-Tyson.
Besides establishing his potential as a global star, the Klitschko fight typified one of the reasons people gravitate to Joshua: He's vulnerable. He's not brilliant in terms of skill. He doesn't trade on the idea that he's inviolable, like Floyd Mayweather did. Joshua can be hit. He's been down, he's been hurt, his nose has been broken in two of his past three fights. The statue can be cracked. To achieve what he wants, he might have to climb off the canvas again, and he has shown that he has the courage to do so. That's a story you can sell.
---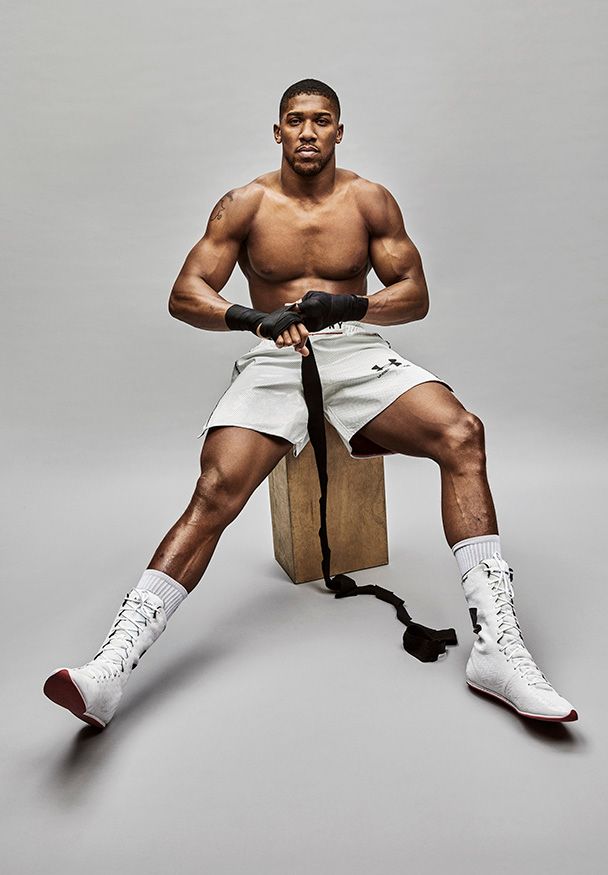 When Eddie Hearn met Joshua after the 2012 Olympics to discuss going pro, he was was struck by Joshua's curiosity. "I was astonished by this deep, deep thinker," he says. "I thought, 'You can't push this kid.'" WILLIAMS & HIRAKAWA FOR ESPN
THE MAN WHOSE JOB it is to sell you Anthony Joshua -- and make no mistake, you are being sold -- is Eddie Hearn, his promoter and the managing director of Matchroom Sport. In the U.K., Hearn's celebrity is a ripple effect of Joshua's, the way Don King's notoriety flourished in proximity to Muhammad Ali and Mike Tyson. The same fans who cheer Joshua boo Hearn with relish as he preens and plays his role. "I'm marginally better than a used car salesman," he tells me over breakfast last spring in Cardiff, his eyes twinkling, insolence playing at the corners of his smile.
A word Hearn uses frequently while discussing Joshua is "control." When the two met after the 2012 Olympics to discuss the idea of Joshua becoming a professional fighter, Hearn was struck by the young man's curiosity. "I was astonished by this deep, deep thinker," he says. "I thought, 'You can't push this kid.'"
Hearn pegged Joshua as an autodidact who wouldn't go along with anything he hadn't learned for himself. So he took a risk and encouraged Joshua to talk with the other promoters who were offering him big money. The ploy worked. Hearn couldn't offer Joshua the windfall others could, but Joshua returned about six months later and signed with Hearn because at Matchroom he wouldn't have to take orders.
Joshua disagrees with the word control, if not the characterization. "It's not so much that I'm a control freak," he says. "I just like to know the strategy and vision and direction we're going in."
But when I bring up Wilder -- the man standing between Joshua and complete control of the heavyweight division -- he reiterates the word himself, speaking of his rival with something worse than distaste: pity. "He didn't take control," Joshua says. "The process has taken control of him."
---
More Boxing on ESPN
War of words nearly kicks off Anthony Joshua vs. Jarrell Miller three months early
Joshua-Miller a quality fight, but ...
Anthony Joshua calls out Deontay Wilder, Tyson Fury
THERE IS TALK that a new golden age in heavyweight boxing is here. Joshua's own stardom has coincided with a groundswell of talented heavyweights with big personalities -- Tyson Fury, the undefeated lineal champion; Wilder, the WBC champion; Dillian Whyte, the world's No. 4 heavyweight; and Jarrell "Big Baby" Miller, who will be the opponent for Joshua's American debut at Madison Square Garden on June 1.
Money has re-entered the heavyweight landscape as well, leading to rounds of kairotic jostling among fighters, promoters and networks. Fury, fresh off the momentum of his controversial draw against Wilder last December, has signed a multifight deal with Top Rank and ESPN. Wilder recently declared himself a free agent, to the slight annoyance of his longtime partners at Showtime. Miller (who is also promoted by Hearn) is on a two-fight deal, with the option of a third, with DAZN. Whyte (also managed by Hearn) is taking network suitors for his next fight. Joshua, meanwhile, will fight on DAZN in June, though he has yet to make a long-term commitment.
No one is complaining about the influx of cash, but all the tantalizing fights that could take place over the next 36 months are suddenly more complicated to make than they were six months ago, raising the fear that the networks, promoters and fighters could squander the public's sudden interest in heavyweight boxing if they can't cut deals.
No one stands to profit more than Joshua, whose foes insist his status atop the division is unearned, phony. His opponents talk about Joshua as if he has gotten to where he is equipped with nothing but his allure, as if he hasn't grabbed what he has with his own hands, as if he didn't get up off the canvas against Klitschko. That they envy Joshua is plain and expected, but it's startling how they mirror one another's language in private conversations.
"He's good at selling people the dream," Whyte tells me in London in late February. (Joshua says he thinks of Whyte -- who dropped and beat Joshua as an amateur, then was knocked out by him as a pro -- as his Joe Frazier. Whyte, hip to the slight, retorts, "He's no Ali.")
"[Joshua and his camp] are just constantly selling dreams," Miller tells me a few days later, after his riotous news conference with Joshua at Madison Square Garden.
Whyte says of Joshua: "He's not the nice guy he pretends to be. ... He is fake."
Says Miller: "He is really fake. ... He has a war with his own self-image."
Whyte: "He's a control freak. He likes to be in control."
Miller: "If he's not doing what he wants right now, he starts to break down. ... If he doesn't get his way, then it's an issue."
Miller, a gifted s--- stirrer and laugh riot, saw instantly that what Joshua would like least was for his presser at Madison Square Garden to turn into a fiasco, which it promptly did. Miller descended to a level of astonishing childishness -- mama jokes, dismissive "whatevahs," crude noises -- that left Joshua unable to get a word in edgewise. When he was finally able to engage, Joshua retaliated by flirting from the podium with Miller's mother.
Miller is somehow both the perfect foe and a disappointing choice as the man against whom Joshua will make his momentous American debut. Miller is widely considered a tier below the elite heavyweights in the division, but the financial incentives for choosing him are obvious: Pick a brash, colorful sacrificial lamb whom you view as no real threat, and let the American public watch Joshua knock him out in the most storied venue in the country. Only then do you follow up with the fight people crave -- Joshua vs. Wilder. If Joshua can accumulate a following in the U.S. like he has in the U.K., his earning power would be astronomical. Joshua reportedly grossed around $26 million in his last fight against Alexander Povetkin and stands to make more than $33 million against Miller. The Wilder and Fury fights would be even more lucrative. Hearn confirmed this plan, using Miller as a soft launch, at our breakfast last spring in Cardiff, going as far as to mention Miller by name, even though at the time, the fight hadn't been made yet. "This whole thing is an act," Hearn tells me. "It's a play, you know?"
His goal is to ensure that the public has an instant, uncomplicated reaction to his client. The flattening of a person into a persona -- that's what sells.
Hearn and I play a game. I say a name, and he's to give a one-word answer that sums up that fighter's public character.
Whyte: "Violent." Fury: "Nuts." Wilder: "Dangerous." Joshua: "Complete package." (Joshua must remain immaculate, even in caricature.)
Almost a year later at Madison Square Garden, Hearn is at a loss as Miller adopts a role Hearn couldn't stage-manage, the minacious antic. Miller takes aim at what he considers Joshua's prefab wholesomeness, his pat redemption story, the beauty he maintains with $500 facials. "Fraud," Miller screams at the presser. "Prima donna ... Barbie doll ... prom queen." (That those three are gendered is not incidental.) "Uncle Tom." (Alas, a false summit.) "Role model." (What Miller really hates about him.) Then Miller abruptly walks out, leaving Joshua to field questions from journalists alone, a situation he could finally control.
---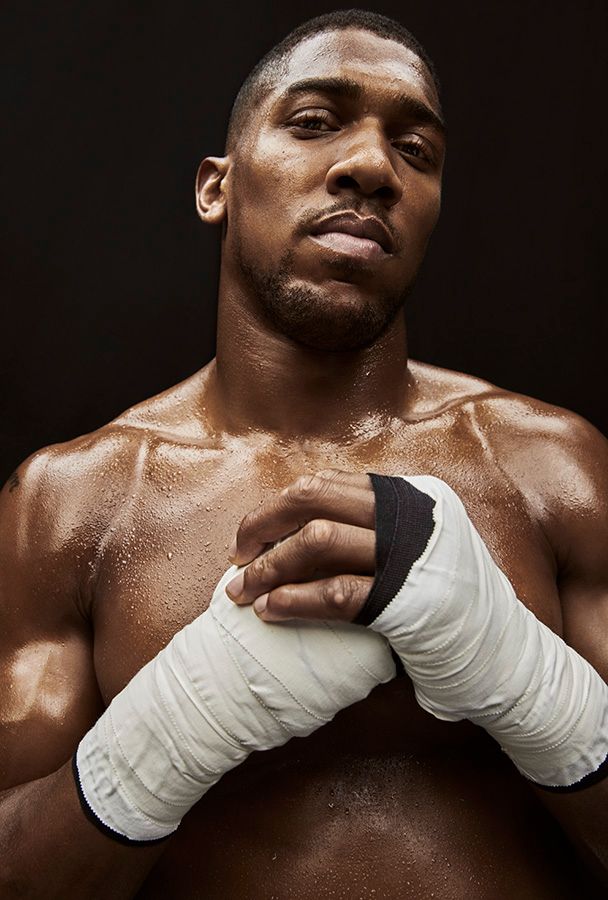 "I was the black sheep, the kid who got in trouble," says Joshua. "So when I stand in that ring, I stand on my own." WILLIAMS & HIRAKAWA FOR ESPN
IN THE STUDIO in Portland, Joshua reveals the last book he read (I'll Make You an Offer You Can't Refuse, by former capo Michael Franzese). "It teaches you the mindset of success by any means, but then it teaches you the rule of integrity as well," he says. And he muses on religion. (A minor exegesis of one of his Twitter posts: "Respect your gods, but do not rely on them. There is nothing outside of yourself that can ever enable you. Everything is within.") In between, he sounds like a man already trying to rescue some part of himself from his own image.
"Win or lose, all the people who love me will still love me, so I don't put pressure on myself," he says. "I was the black sheep, the kid who got in trouble. So when I stand in that ring, I stand on my own because it's not long ago that no f---er gave a s--- about me."
In Cardiff last March, when he became the unified heavyweight champion by defeating New Zealand's Joseph Parker in front of nearly 80,000 at Principality Stadium, Joshua's immense following and financial clout were on full display. The city center was transformed into a festival: lines to get into bars and restaurants winding around the block and disintegrating into formless masses in every square, young men in bland uniform (black jeans, black shoes, a blazer or snug button-up), women in heels so audacious it was as if they had been dared, a new bassline around each corner for the ear to latch on to, tiny pools of stale booze awaiting every third footfall, a low-level reek setting in. The AJ economy.
Joshua is good for business, especially for his rivals. Fighting Joshua was Parker's biggest payday, and Povetkin's. He'll be Miller's in June, and Wilder's and Fury's and Whyte's when their times come.
"I have never met a fighter less motivated by money," Hearn says of Joshua. That's nonsense, of course, an adornment meant to gild the "total package."
"Anyone who tells you they're not money motivated is just chatting s---," Joshua says months later, tarnishing such sanctimony.
He is every inch the prizefighter, though he clearly yearns to be more. "If they're in it for the long run," Joshua says of his fans, "they'll soon understand that there's more to me than just boxing. I'm going to be their kid's inspiration."
Hours before the Parker fight, the half-filled stadium was already echoing with chants of "Ohhh Anthony Joshua!" to the tune of the White Stripes' "Seven Nation Army." As Joshua took his long walk to the ring in a white robe, pyrotechnics exploding, it recalled Muhammad Ali, because it was supposed to make you recall Ali. And when Joshua commandeered the microphone after the bout (as he tends to do) to deliver a short sermon on the need for unity, it was because for him, what he says is as important as what he does.
Months later in Portland, Joshua adopts the Socratic method to make his point. He asks me to give him an Ali quote. Then Bruce Lee, and Tyson, and Anthony Joshua, all asked and answered.
"Give me something Lennox Lewis said," he says.
"Good grief," I reply, unable to come up with anything.
"He was the undisputed heavyweight champion, so it's not just what you do," he says, arriving at his QED. "Don't tell anyone that's the tactic. It's not just what you do, it's what you say. That's what lives on in eternity. ... All the great leaders are remembered for their quotes."
Some will no doubt hear the sound of an actor regarding himself. But I hear Joshua beginning to feel around the edges of a problem. In his postfight interview in Cardiff, he responded to a question about a big-money bout against Wilder by declaring that he didn't need to go to America to make the fight happen. "We can do it here," he said. Having seen previous British champions make their names in the U.K. only to go make their fortunes in the States, the 80,000 assembled seemed to swoon and rise in one uncanny motion. Everyone stood 2 inches taller.
But there have been missteps. Before the Parker fight, Joshua was accused of sexism when a previous interview with British GQ resurfaced. In the story, he said he was stricter with his niece than with his son because she had to learn "family morals" and would grow up to "be someone's wife." Then in early March of this year, he was blasted for comments he made about Cristiano Ronaldo, who has been accused of rape. "I've always said two things you'd get f---ed for as an athlete is women and tax. He's got f---ed for both and he's still smiling, still strong," Joshua said glibly during the MSG presser. The organization Rape Crisis England and Wales released a statement saying that as a "role model to many," the champion had "a responsibility not to trivialize such issues."
The last two transcendent pop cultural boxing stars, Tyson and Mayweather, were both animated by central contradictions (one a convicted rapist, the other a serial batterer). The truth about Tyson was that the "baddest man on the planet" was a fiction. The problem was that no one needed that fiction more or believed it less than Tyson himself. The truth about Mayweather was that he was a genius in the ring and a robber baron outside of it. The problem was that he was interested only in testing the boundaries of the latter.
Joshua has to contend with his own stately image, the statue of himself. He must achieve ubiquity while maintaining the recognizable mark of place and personality, remain a person while inhabiting a persona, belong to Britain and the whole world, be at home everywhere and still maintain a home.
"Do they love me for me or do they love me for the things I say, because I say the right things for now?" he asks. For now.
Sounding like a monarch poised over the sport he plans to rule for the better part of the next decade, recognizing the elegant trap of his ambition, already wondering how to maintain control, he says, "It's hard to keep the love of the people. There's always a group ready to rebel."