BELLATOR MMA WORLD GRAND PRIX 2023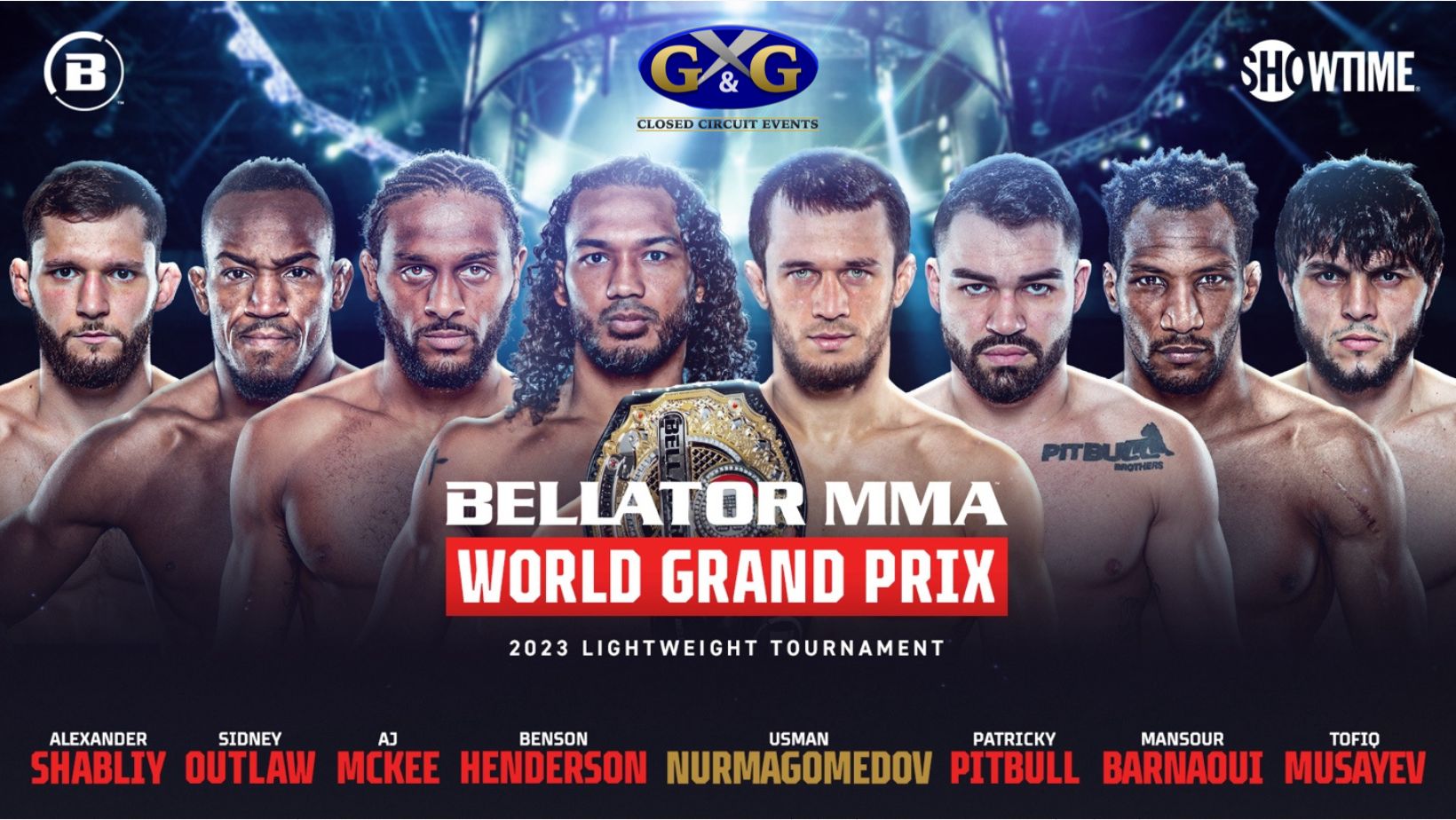 YOUR 2023 LIGHTWEIGHT WORLD GRAND PRIX CONTESTANTS:


USMAN NURMAGOMEDOV (16-0) — BELLATOR Lightweight World Champion

Reigning BELLATOR Lightweight Champion Usman Nurmagomedov (16-0) will enter the gauntlet in defense of his world title, which he captured last November atBELLATOR 288 with a resounding decision victory over Patricky Pitbull. The cousin of MMA legend Khabib Nurmagomedov, Usman Nurmagomedov made history as BELLATOR's first Dagestani titleholder and youngest active champion with the win and in the process was named ESPN's Top Fighter Under 25 in 2022. A dynamic finisher whose skills and accolades are only outweighed by his promising potential, Nurmagomedov will look to continue adding to the family legacy as he seeks to defend his title and capture the $1,000,000 prize at the culmination of the Lightweight World Grand Prix.

AJ MCKEE (20-1) — No. 8 / No. 3 P4P

Fresh off his BELLATOR vs. RIZIN victory over reigning RIZIN Lightweight Champion Roberto de Souza, BELLATOR's No. 3 pound-for-pound talent AJ "Mercenary" McKee (20-1) joins the field. McKee is one of MMA's brightest stars and has already pocketed $1,000,000 with his 2021 Featherweight World Grand Prix victory, which saw him defeat the legendary Patricio "Pitbull." Now, McKee's sights are now trained on conquering the 155-pound division. At just 27, McKee has served as one of the main faces of BELLATOR during his 21-fight career, while scoring 13 thrilling highlight-reel finishes. In 2023, McKee will look to further add to his unrivaled BELLATOR legacy with a second championship reign in a second weight class.

PATRICKY PITBULL (24-11) — No. 1

Nurmagomedov's last foe, ex-titlist Patricky "Pitbull" (24-11), has a clear path to re-capture the lightweight crown by the time the Lightweight World Grand Prix dust settles. The Brazilian slugger is tied for most knockouts (10) in company history and is no stranger to the tournament format, placing as the runner-up in BELLATOR's 2011 (Season 4) and 2014 (Season 10) tournaments as well as the 2019 RIZIN Lightweight Grand Prix. At 36, the No. 1-ranked BELLATOR contender's status as a dangerous finisher and accomplished professional is well-established, with a résumé including victories over Benson Henderson, Roger Huerta, Josh Thomson, and Peter Queally. However, the owner of 16 knockout wins will look to add a few more to his record as he hunts down the title in search of a second championship reign.

TOFIQ MUSAYEV (20-4) — No. 2

Tofiq Musayev (20-4) is the author of one of the best BELLATOR debuts in recent memory, but he hopes it will be his inclusion in the Lightweight World Grand Prix that truly defines his time with the promotion. The 33-year-old stunned the MMA world with his short-notice, 27-second knockout of then-top-ranked Sidney Outlaw at BELLATOR 283, immediately thrusting his name into title contention and placing his native Azerbaijan squarely on the sport's map. Musayev boasts 16 knockouts in his 20 professional victories, but none had a larger impact on his future than that of Outlaw, which vaulted him to No. 2 in the BELLATOR lightweight rankings. The former RIZIN Lightweight Champion will look to become a world titlist inside the BELLATOR cage this year as part of a talent-stacked tournament field.

BENSON HENDERSON (30-11) — No. 3

Few fighters can be as assured of their place in their weight class's history than Benson "Smooth" Henderson (30-11). The former UFC and WEC Lightweight Champion has long been regarded as one of the division's finest representatives, but a BELLATOR title has thus far eluded his crowded mantle of accolades. The well-rounded Henderson holds victories over a legendary list of opponents including Patricio "Pitbull," Nate Diaz, Gilbert Melendez, Jorge Masvidal, Donald Cerrone, and many others, but Henderson hopes to add more in 2023. Entering the Lightweight Grand Prix on the strength of back-to-back winning efforts, the No. 3-ranked Henderson plans to turn back the clock for a final run at the BELLATOR championship.

ALEXANDER SHABLIY (22-3) — No. 4

Long considered one of the best fighters unsigned to a major promotion, Russia's Alexander "Peresvet" (22-3) has looked every bit the part of a future world champion since joining the BELLATOR roster in 2021. The sophisticated striker brings 18 finishes and a devastating highlight-reel with him into the Lightweight World Grand Prix, which he enters on the strength of a second-round knockout of former champion Brent Primus in his last outing. Now ranked No. 4 in the division, the 29-year-old believes he is firmly in his prime; after three straight victories to begin his BELLATOR tenure, Shabliy will look to prove it as he chases a world title for the first time in his professional career.

SIDNEY OUTLAW (16-5) — No. 5

Once booked to face Patricky "Pitbull," No. 5-ranked Sidney "Da Gun" Outlaw (16-5) saw his world title hopes vanish at the hands of Tofiq Musayev after his late notice replacement for an injured Pitbull. The 30-year-old relishes the opportunity to once more return to title contention as part of the Lightweight World Grand Prix in 2023, where he hopes his continued training at the prestigious American Top Team gym will pay off in spades. A talented grappler who became a champion on the U.S. Northeast regional scene, Outlaw will look to earn a second chance at the title during the Grand Prix, along with its life-changing $1,000,000 grand prize.

MANSOUR BARNAOUI (20-4)

Rounding out the field is BELLATOR's newest contender Mansour "Tarzan" Barnaoui (20-4). The Tunisian-Frenchman will look to prove why MMA fans around the world were so thrilled to see him join BELLATOR's talent-rich lightweight division during the Lightweight World Grand Prix. A relentless finisher, the 30-year-old sports 13 submissions alongside six knockouts to the tune of a blistering 95% finishing rate. Barnaoui wowed fans with his dominant debut showing against Adam Piccolotti at BELLATOR 287, but Barnaoui believes the best of his BELLATOR tenure is yet to come. "Tarzan" has previously held titles in ROAD FC, M-1 Challenge, and BAMMA, but he hopes 2023 will be the year he can add the BELLATOR championship to his impressive (and well-stocked) trophy case.

Alternates for the Lightweight World Grand Prix are to be determined, but BELLATOR's impressive lightweight roster promises fighters well-qualified for the position. Four ranked contenders, No. 6-ranked Brent Primus (11-3), No. 7-ranked Islam Mamedov (22-2-1), No. 9-ranked Peter "The Showstopper" Queally (13-7-1), and No. 10 Gadzhi Rabadanov (19-4-1), all find themselves outside looking in as of now. Elsewhere, compelling prospects like Archie Colgan (5-0), Jay Jay Wilson (9-1), and Max Rohskopf (7-1) demonstrate the depth of BELLATOR's lightweight division.