"TANK"
RECORD: 26-0-0
KOS: 24
WEIGHT: 134.5 lbs (60.91 kg)
AGE: 27
HOME: Baltimore, Maryland, USA
---
"BOXING HAS SAVED MY LIFE"
Long before embarking on a road that would lead him to the precipice of boxing immortality, Gervonta Davis was a lost soul roaming the streets of a crime-filled section of West Baltimore, seemingly destined to become another tragic statistic.
Jail or death—those appeared to be the only life options for young men living in and around Davis' rough neighborhood. A southpaw nicknamed "Tank" by an amateur coach for his large head, Davis spent time in foster care and group homes. Fortunately, with the help of one of his friends, Quaadir Gurley, Davis found a safe haven within the confines of The Upton Boxing Center's gym at age seven. He quickly threw himself into the sport fists first.
Gurley introduced Davis to his father, Calvin Ford, the man who would eventually become Davis' longtime coach. The inspiration for the character, Dennis "Cutty" Wise on the popular HBO television series, "The Wire," Ford guided Davis through a 206-15 amateur career that included winning a National Golden Gloves Championship in 2012, three consecutive National Silver Gloves crowns from 2006-2008, and two each in the National Junior Olympics gold medals, the National Police Athletic League, and the Ringside World Championships.
Two years before Gurley was shot and killed in 2013, Davis grieved the loss of Ronald Gibbs, a rising amateur boxer who was just 17 when he was stabbed to death while defending his sister during an argument. The following year, Angelo Ward, another promising amateur, was shot to death.
"Before Coach Ford, I had no father figure because my father was in and out of jail. Angelo Ward, Ronald Gibbs and Coach Calvin's son—they're guys who died and were such a major influence on my life," said Davis, a lifelong Baltimore resident who dropped out of high school to focus on his career, later to earn a secondary degree through a GED program.
"Actually, many young men I used to look up to are either dead or in jail. Whenever I fight, I feel like their legacy is going into the ring with me. It's a big responsibility, but I'll take that. There's a lot of bad stuff that comes from Baltimore, but if they see that one person can do it, then the next one can do it, and so on and so on. The only thing that I can do is to bring light to Baltimore. Boxing has saved my life."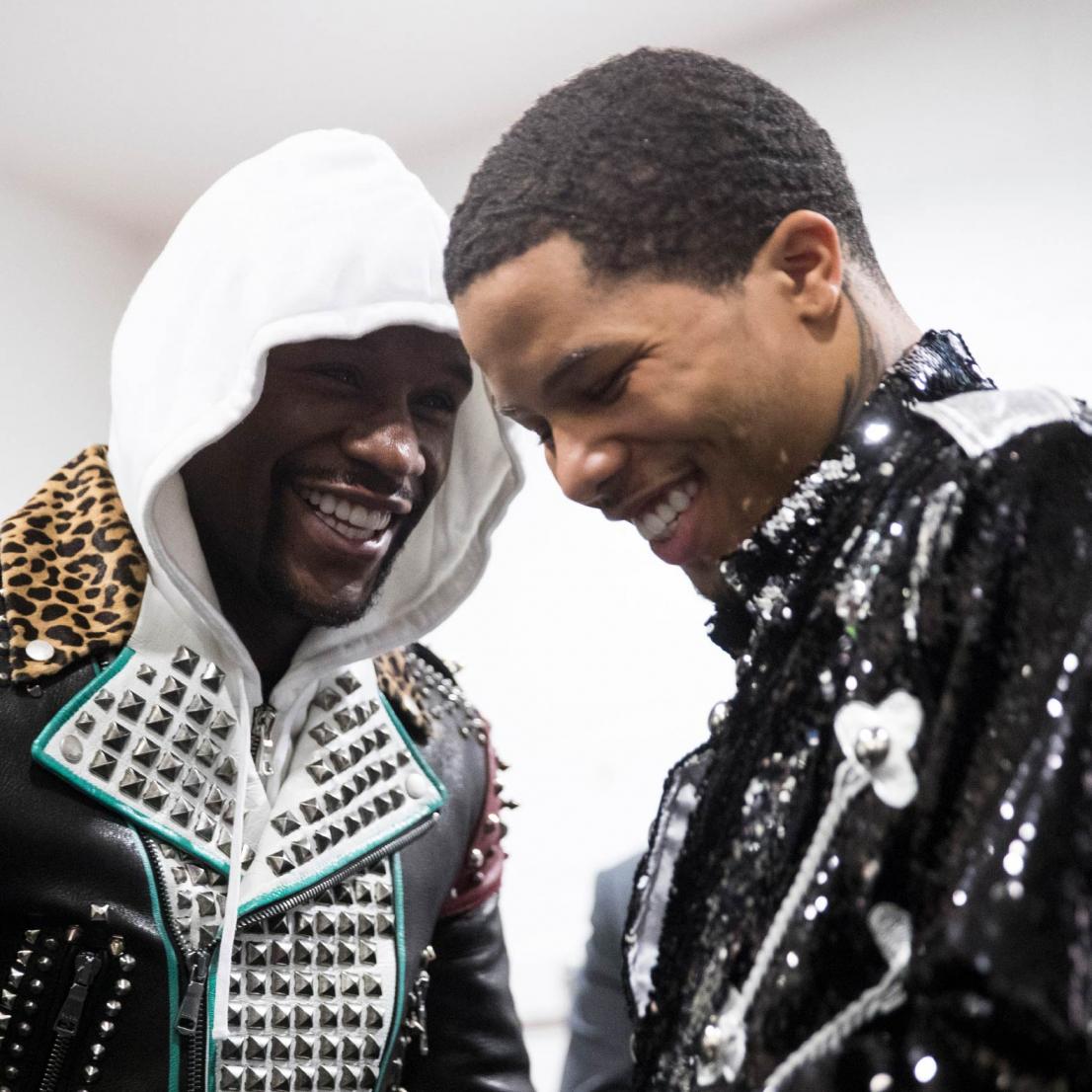 Floyd Mayweather and Gervonta Davis
CATCHING THE EYE OF FLOYD MAYWEATHER
An 18-year-old Davis made his professional debut with an 89-second knockout of 125-pound rival Desi Williams on February 22, 2013. Davis displayed two-fisted power, dazzling speed, accuracy and athleticism.
Williams was the first of eight consecutive victories, all knockouts. In October 2014, Davis was extended the distance for the first time in his career, dropping German Meraz twice en route to a shutout unanimous decision win.
Davis resumed his knockout ways in emphatic fashion in 2015, scoring stoppages in all five of his bouts.
It was around this time that four-division champion Adrien Broner introduced Davis to the legendary Floyd Mayweather Jr., who became the fighter's promoter.
"Adrien Broner brought him to the gym (in Las Vegas), and we saw him work," said Mayweather, who predicted Davis' stardom. "We stacked the cards against him that day, but he's a very explosive fighter and a future world champion."
Davis concurred.
"There's a lot of knowledge that Floyd has passed on to me," he said, "showing me the right things in and outside of boxing. I'm trying to reach the next younger generation of fighters who look up to me."
Davis vs Pedraza: January 14, 2017 (Showtime Sports)
THE CHAMPIONSHIP RUN
Davis became a two-time 130-pound champion over his next eight bouts, all knockouts. The road to the crown included a third-round stoppage of former champion Cristobal Cruz on October 10, 2015, improving Davis' mark to 13-0 (12 KOs).
Davis needed just 41 seconds to finish Mexican veteran Mario Antonio Macias on June 3, 2016.
But it was his title-winning performance that made all sit up. On January 14, 2017, "Tank" steamrolled previously undefeated IBF world super featherweight champion Jose Pedraza, flattening him with a crunching right hook in the seventh round at Barclays Center in Brooklyn, New York.
In doing so, the 22-year-old Davis became America's youngest reigning champion in boxing at the time, and the first Baltimore fighter with a world title since heavyweight Hasim Rahman upset Lennox Lewis in April 2001.
Davis had won his first world title in only his 17th professional fight, surpassing Mayweather, who won his first championship in his 18th bout.
Davis went overseas for his first defense on May 20, 2017, scoring a third-round TKO over unbeaten Brit Liam Walsh in Walsh's native England.
In Davis' next bout, on the undercard of Mayweather's 10th-round TKO of Conor McGregor on August 26, 2017, he stopped another unbeaten opponent, Francisco Fonseca, in eight rounds.
However, Davis would lose his title on the scales prior to the bout. But he wouldn't be without a belt for long.
On April 21, 2018, Davis returned to Barclays Center, where he first won a world title, and captured another with a third-round TKO over former champion Jesus Cuellar.
Davis vs Nunez: July 27, 2019 (Showtime Sports)
STAR POWER
Davis was fast becoming one of the biggest names in the sport. He was scheduled to face three-division world champion Abner Mares on February 9, 2019. A win over Mares would have catapulted him to superstar status. However, Mares suffered an eye injury during training and was forced to pull out.
Nevertheless, the stars were out to see Davis as Drake, Lil Wayne, Meek Mill, Odell Beckham, Antonio Brown, Birdman, Jeezy and more sat ringside at Dignity Health Sports Park in Carson, California.
Davis didn't disappoint, obliterating late replacement Hugo Ruiz inside one round.
On July 27, 2019, Davis became the first Baltimore native to defend in his hometown since Harry Jeffra defended the featherweight world title in 1940.
Naturally, he did it in style.
In front of a sellout crowd of 14,686 raucous fans at the Royal Farms Arena, "Tank" manhandled Ricardo Nunez, putting him away with a series of left-hand power shots in the second round.
"It's amazing to fight in front of my fans and friends," Davis said. "It's not only a win for me, but a win for Baltimore. He wasn't ready at all times. I took advantage and I took the shot. I caught him with a good shot. I'm only 24 and I'm growing every day. I'm learning and progressing, I'm working."
People took notice. Davis drew over 200,000 searches on that Saturday alone, making him number one on Google Trends for that day. Further, two different social media videos of Davis' KO of Nunez drew over 1.4 million views.
According to a Forbes.com article, based on the metrics they analyzed, Davis was poised to become boxing's next pay-per-view star.
Davis vs. Gamboa: December 28, 2019
BRINGING BOXING BACK TO ATLANTA
On December 28, 2019, Davis drew a boisterous crowd of 14,129 to State Farm Arena in Atlanta. Davis was attempting to become a two-division world champ as he took on former unified world champion Yuriorkis Gamboa in Georgia's first world title match in over 21 years. On the line was the WBA world lightweight title.
Davis was sharp early on, dropping Gamboa with a short left in the second round. Gamboa rose but limped for the rest of the frame. Afterward, it was revealed that he tore an Achilles and would require surgery.
In lasting until the twelfth, Gamboa not only showed bravery, but also had his moments during the fight. However, it wasn't enough to overcome Davis, who dropped Gamboa in the eighth and finally in the 12th to close the show at 1:17 of the frame.
"Coming into this fight, I knew Gamboa was a tough opponent, even though everybody was writing him off," Davis said. "I was catching him and I was hurting him, even though he was alert. I believe my performance was a C-plus."
Davis vs. Santa Cruz: October 31, 2020 (Courtesy of SHOWTIME Sports)
BECOMING A PAY-PER-VIEW STAR
Having established himself as one of the game's biggest ticket sellers, it was time for Davis to take the next step and become it's next pay-per-view king. It's a mantle that was left behind by his promoter, Floyd Mayweather. And while Davis had the skill and will to carry that torch, he'd have to beat dangerous four-division world champion Leo Santa Cruz in order to get there.
The fight was set for Saturday, October 31 at the Alamodome in San Antonio, Texas, headlining a PBC on SHOWTIME pay-per-view. It was an epic back and forth, each fighter giving as good as they got for the better part of six rounds. But what looked to be the Fight of the Year instead turned into the KO of the Year as, with seconds remaining in the sixth, Davis knocked Santa Cruz out with a single left uppercut. No count was needed. Official time was 2:23 of the sixth.
Davis immediately began trending on social media as celebrities from Lebron James to "Magic" Johnson reacted to the knockout.
"Leo is a tough warrior and a strong Mexican fighter," Davis said. "He came ready for me. I was just the better fighter tonight. I want to maintain both belts. Whatever decision me and my team comes up with, we'll go with it. I'm not ducking or dodging anybody.
"I'm a pay-per-view star. Everybody knows I'm number one and I showed it tonight. I'm going to continue to show people all over the world that I'm the best. I don't have to call anybody else out. I'm the top dog. Just line them up and I'll knock them out."
Davis vs. Barrios: June 26, 2021 (PBC on SHOWTIME PPV)
THREE DIVISIONS, THREE TITLES
On June 27, 2021, Davis put on a career-defining performance, moving up to 140-pounds and scoring a scintillating 11th round TKO over the previously-undefeated Mario Barrios to capture Barrios WBA Super Lightweight Championship. Davis did it in style--and in front of a vibrant crowd of 16,570 in Atlanta's State Farm Arena, live on SHOWTIME pay-per-view.
"I made it tough. I definitely could have made it easier but I went up two weight classes and I got the job done," said the 26-year-old Baltimore native, who was headlining his second SHOWTIME PPV. "I hit him with some clean shots, but I'm the type of fighter that wants to catch you with clean shots. I don't just want to throw any type of shot. The shots I was throwing were missing, but eventually I caught up with him."

In a fight that lived up to its potential, Davis and Barrios combined to put on an unforgettable main event. After a slow opening four rounds in which Davis landed just 11 punches, the fight produced fireworks beginning in the fifth round. In the eighth round, "Tank" sent "El Azteca" to the canvas for both the first and second times of his career. First, Davis connected on a sweeping right hook that sent the former champion to the canvas. Moments later, a straight left hand by Davis dropped Barrios again. The brave Barrios rose to his feet, surviving Davis' attempts to finish him in the eighth.

With International Boxing Hall of Famer and promoter Floyd Mayweather encouraging Davis in his corner, the southpaw came out rejuvenated in the eleventh round, realizing that the fight could be close on the scorecards. "Tank" dropped Barrios for the third time in the fight, this time with a left uppercut to the body. The bloodied Barrios rose again, only to be greeted with another barrage of punches from Davis. Referee Thomas Taylor stepped in to stop the fight at 2:13 of the eleventh round.

"I knew for sure if I catch him, I'm crackin," Davis told SHOWTIME's Jim Gray. "So I caught him, and it showed. My coach was telling me to go to a jab style but I'm a southpaw so they know I'm going to that jab side. So I would try and bait him in. I faked like I was going left, and I threw my right. And my hook over top, and that's where I caught him."

In the final six-and-a-half rounds, Davis landed 85 punches. He landed 45 percent of his power punches (82/182), while Barrios more than held his own, out-landing Davis in six of the ten completed rounds.

"I knew he was hurt. I just had to catch him at the right time," Davis continued. "Floyd [Mayweather] came to me and was honest and said I was down," continued Davis, who was actually ahead on all three judges' scorecards at the time of the stoppage. "So he said 'show me that you're great.' And you know how we do it in the doghouse, baby!"

With the victory, Davis now holds world championships in three different divisions simultaneously, a feat only accomplished by a few other fighters in history, including Henry Armstrong and Canelo Alvarez.
"He has the potential to be one of the greatest ever," said Mayweather. "When I first met 'Tank' when he was 14 or 15 years old, I told him I'd make him a world champion. And that you'll be one of the best someday. I'm proud of him."
Davis was slated to face long-time rival and Mayweather Promotions stablemate Rolando "Rolly" Romero Sunday, December 5, 2021, in Los Angeles' Staples Center, live on PBC on SHOWTIME pay-per-view. However, Romero was replaced with an opponent many deem to be even tougher, Mexico's Isaac "Pitbull" Cruz. The 23-year-old Cruz has taken the boxing world by storm, beginning with his head-turning 53-second KO of Diego Magdaleno in October 2020.
"Cruz has impressed me in his past fights. He comes in there to win," said Davis. "He doesn't look to just hang in there. He wants to go in and take it. He's not an opponent I can overlook. A win over him would be big for me.
"This is a more interesting fight now, because we both come forward. This is going to be something great for the fans and another exciting night for the sport of boxing. May the best man win. We're both coming with our 'A' games.
"He can say I haven't faced someone like him, but he's never fought anybody like me either. I can box and I can hit. We'll see what he's saying when he gets hit in the face."
Davis vs. Cruz: December 5, 2021 (SHOWTIME PPV)
SKILLS PAY THE BILLS
Davis was slated to face long-time rival and Mayweather Promotions stablemate Rolando "Rolly" Romero Sunday, December 5, 2021, in Los Angeles' Staples Center, live on PBC on SHOWTIME pay-per-view. However, Romero was replaced with an opponent many deemed to be even tougher, Mexico's Isaac "Pitbull" Cruz. The 23-year-old Cruz has taken the boxing world by storm, beginning with his head-turning 53-second KO of Diego Magdaleno in October 2020.
A star-studded and sellout crowd of 15,850 turned up to watch a thrilling back and forth. Davis put his boxing skills on display, winning a rousing 12-round round unanimous decision to retain his WBA Lightweight World Title. Scorecards read 116-112 and two scores of 115-113, all for Davis.

The atmosphere in the arena was electric, with scores of current and former NBA stars in attendance, including Earvin "Magic" Johnson, Kawhi Leonard, Dwight Howard, Kenny Smith, Kevin Garnett and Paul Pierce among others.

Accompanied by superstar rapper Lil Durk, Davis entered the ring in Laker purple and gold; tassels along his trunks with the late Kobe Bryant's number "8" and "24" on each side. Cruz celebrated his Mexican heritage with a mariachi band behind him as he strode toward the ring.

There was no feeling-out process in the first. Cruz charged at the defending champion, pinning him against the ropes and wailing away. Davis found his rhythm in the second and third, circling the ring and walking Cruz into shots. In the fourth, Cruz concentrated his attack on the body, pounding Davis' ribs.

The 27-year-old Baltimore native turned on the power in the fourth, alternating between the right hook and left cross behind his southpaw stance. More punishing blows came from Davis during the fifth.

"He's a shorter fighter, so I was throwing down on the top of his head," said Davis. "I hit him with my knuckle and messed it up. I hurt my hand in the sixth round. No matter if the opponent is taller or shorter, I've got to get through it. He's a warrior. Even though he didn't win, a star was born tonight."

"It was right around the fifth round I saw that his hand wasn't working correctly," Cruz observed.

Davis boxed beautifully in the middle rounds, firing quick shots and pivoting away from the return fire. A right hook in the eighth briefly buzzed Cruz and brought the audience to their feet. But just when it appeared as if the fight was slipping away, Cruz fought fire with fire, landing a flush uppercut seconds before the bell.

The 23-year-old Mexican picked up the pace in the latter rounds, keeping Davis on his toes and pounding away. Davis held his own, fighting back on even terms until the fight's end.

"Whatever the best opportunity is for me, I'll do it," said Davis. "All of them guys are easy work. I'm the top dog."
---