BELLATOR 298: STORLEY VS. WARD FIGHT CARD FINALIZED AHEAD OF BELLATOR'S RETURN TO SANFORD PENTAGON IN SIOUX FALLS ON AUGUST 11
Post on , under News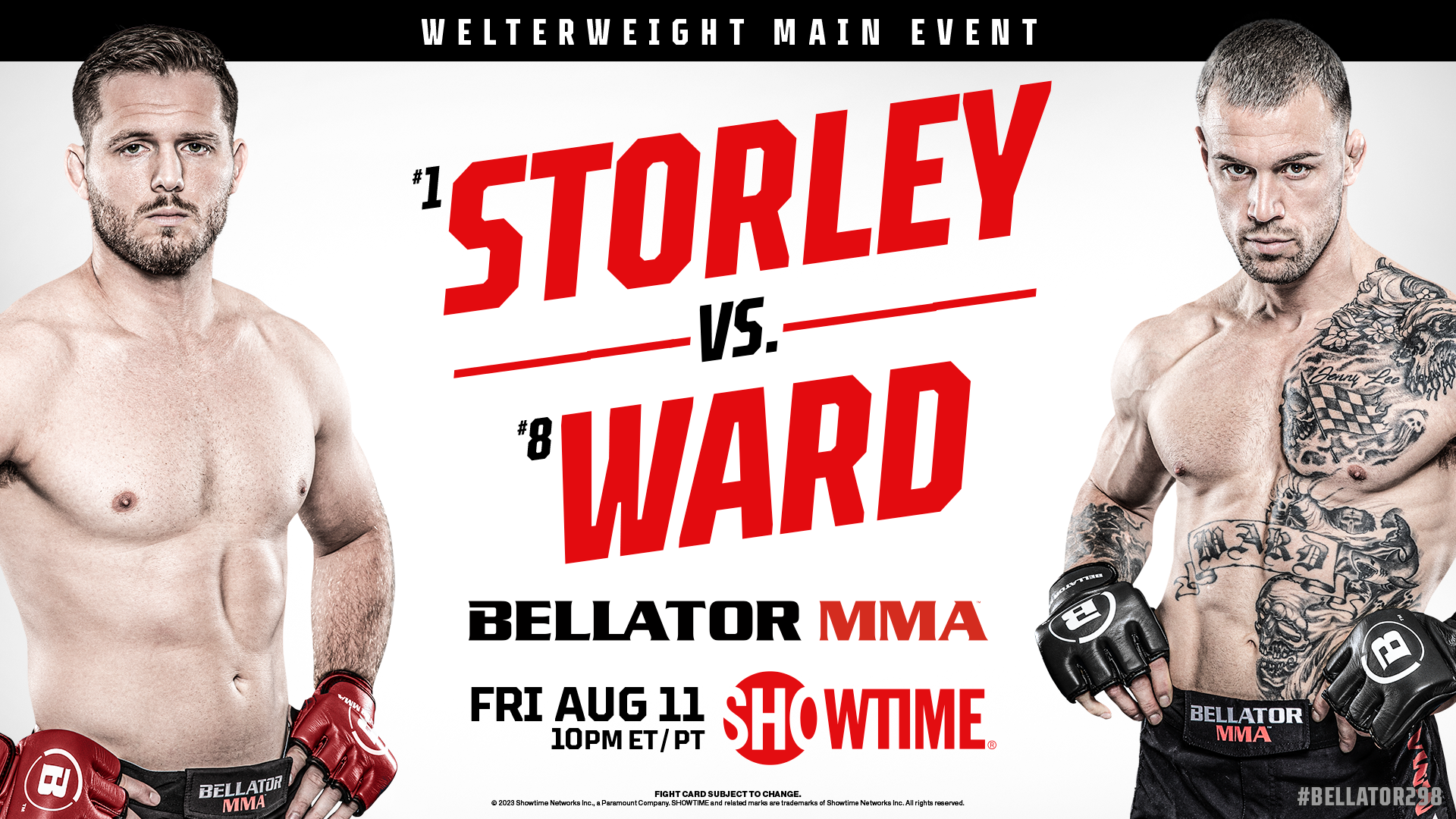 2020 U.S. OLYMPIC WRESTLING STAR AND TWO-TIME NCAA NATIONAL CHAMPION JORDAN OLIVER SET TO MAKE MMA DEBUT AMONG FOUR NEW MATCHUPS
LOS ANGELES — Four weeks away from touching down in the Sanford Pentagon in Sioux Falls for BELLATOR 298: Storley vs. Ward this August 11, BELLATOR has today finalized the talent-rich event lineup with the addition of four new and exciting matchups. Notably, BELLATOR 298 will now feature the professional MMA debut of two-time NCAA Division I National Champion and 2020 U.S. Olympic Team member Jordan Oliver (0-0), BELLATOR's newest featherweight talent.

The BELLATOR 298 main card will air at 10 p.m. ET/PT on SHOWTIME. The preliminary card begins at 6:30 p.m. ET/5:30 p.m. CT and will air on the BELLATOR and SHOWTIME Sports YouTube Channels, as well as the 24/7 BELLATOR MMA™ channel on Pluto TV.

Tickets for the event can be purchased at Bellator.com, Sanford Pentagon Box Office & Ticketmaster.

Headlining the updates to the BELLATOR 298 card will be the debut of Jordan Oliver, who faces South Dakota's own Andrew Triolo (0-1) at 145 pounds. Plus, veteran Canadian bantamweight Josh Hill (22-5), winner of two of his last three, will welcome surging Russian finisher Kasum Kasumov (14-1) to the BELLATOR cage for the first time.

In changes to the existing event lineup, the featherweight fight between James Gallagher (11-2) and James Gonzalez (10-6) has been elevated to the SHOWTIME-televised main card. Additionally, light heavyweight prospect Sullivan Cauley (5-1) will now meet American Top Team Portland's Hamza Salim (7-6) and Brazil's Jairo Pacheco (7-1) now faces Russia's Vladimir Tokov (8-2). Lastly, a pair of middleweight bouts between Khalid Murtazaliev (17-3) and Mike Shipman (15-4) and Imamshafi Aliev (9-0) and Anthony Adams (9-4) have both been removed from the card.

Jordan Oliver vs. Andrew Triolo — Featherweight Bout

One of the most decorated American wrestlers to transition to mixed martial arts in recent years, 33-year-old Jordan Oliver will bring a highly decorated résumé will him into the BELLATOR cage this August 11. The former Oklahoma State University Cowboy was a two-time NCAA Division I National Champion and three-time finalist, adding four BIG 12 Tournament championships and a 2019 U.S. National Championship gold medal to his well-adorned trophy case. Impressively, he took gold at the 2020 Olympic Team Trials to join the U.S. Olympic Team. Ahead of his MMA debut, he has trained alongside the talented stable at Kill Cliff FC. Looking to spoil Oliver's debut will be local pro Andrew Triolo, who hopes a homefield advantage will aid him in this exciting matchup.

Josh Hill vs. Kasum Kasumov — Bantamweight Bout

Canadian Josh Hill hopes to build upon the momentum of having won two of his last three in this compelling matchup with highly touted promotional debutant Kasum Kasumov. Hill, 36, has been a stellar addition to the bantamweight division since signing with BELLATOR in 2020, even earning a wild card berth in the $1,000,000 Bantamweight World Grand Prix before being forced to withdraw due to injury. Opposite Hill, BELLATOR newcomer Kasumov hopes to make his first promotional impression a memorable one at the Sanford Pentagon. The 28-year-old Russian will look to prove himself a player in the talent-stacked 135-pound division on the strength of four straight stoppage victories, including a D'arce choke submission in the second round of his most recent outing in Eagle FC.

Vladimir Tokov vs. Jairo Pacheco — Lightweight Bout

Following the withdrawal of Max Rohskopf, Brazil's Pacheco will now take on Russia's Vladimir Tokov in this battle of up-and-coming lightweights. The six-foot Pachecho hopes to make use of his impressive size and length advantages to put his dynamic striking on display in search of his first promotional victory after dominating the Brazilian regional scene. But Tokov, a student of the iconic Fedor Emelianenko, hopes to leave Sioux Falls with a second straight win after stopping Lance Gibson Jr. for the first time in the latter's career at BELLATOR 293 in March.

The updated fight card is now as follows:

BELLATOR MMA 298: STORLEY VS. WARD MAIN CARD:
SHOWTIME
Friday, August 11 — 10 p.m. ET/9 p.m. CT

Welterweight Main Event: #1-Logan Storley (14-2) vs. #8-Brennan Ward (17-6)
Heavyweight Feature Bout: #2-Valentin Moldavsky (11-3, 1 NC) vs. #3-Steve Mowry (10-0-1, 1 NC)
Middleweight Feature Bout: #4-Dalton Rosta (8-0) vs. #6-Aaron Jeffery (13-4)
Featherweight Bout: James Gallagher (11-2) vs. James Gonzalez (10-6)
Lightweight Feature Bout: #6-Sidney Outlaw (16-5) vs. #7-Islam Mamedov (22-2-1)

BELLATOR MMA 298: STORLEY VS. WARD PRELIMINARY CARD:
BELLATOR MMA YouTube channel | SHOWTIME Sports YouTube channel | Pluto TV
6:30 p.m. ET/5:30 p.m. CT

Featherweight Bout: #10-Lucas Brennan (7-0) vs. Weber Almeida (7-1)
Bantamweight Bout: #9-Enrique Barzola (19-7-2) vs. #10-Jaylon Bates (7-0)
Featherweight Bout: Kai Kamaka (11-5-1) vs. Akhmed Magomedov (10-1-1)
Flyweight Bout: #8-Diana Avsaragova (6-0) vs. #10-Justine Kish (8-6)
Lightweight Bout: Vladimir Tokov (8-2) vs. Jario Pacheco (7-1)
Featherweight Bout: #7-Dayana Silva (10-8) vs. Katerina Shakalova (7-1)
Light Heavyweight Bout: Sullivan Cauley (5-1) vs. Hamza Salim (7-6)
Bantamweight Bout: Bryce Meredith (4-0) vs. Alberto Rodriguez (4-3)
Lightweight Bout: Alfie Davis (15-4-1) vs. Aalon Cruz (11-4)
Bantamweight Bout: #7-Leandro Higo (21-6) vs. Nikita Mikhailov (10-2)
Bantamweight Bout: Josh Hill (22-5) vs. Kasum Kasumov (14-1)
Bantamweight Bout: Marcirley Alves da Silva (11-3) vs. Jerrell Hodge (10-3)
Featherweight Bout: Jordan Oliver (Pro Debut) vs. Andrew Triolo (0-1)
Bantamweight Bout: Michael Blockhus (Pro Debut) vs. Eli Mefford (0-4)

Apply for BELLATOR media credentials
RSVP for BELLATOR virtual media availabilities
For more information on upcoming BELLATOR MMA events, visit BELLATOR.com.
Updated schedule of BELLATOR events - click links for updated fight cards
Sun. Jul. 30 // BELLATOR x RIZIN: Pitbull vs. McKee // Saitama Super Arena // Tokyo, JP
Fri. Aug. 11 // BELLATOR 298: Storley vs. Ward // Sanford Pentagon // Sioux Falls, SD
Sat. Sept. 23 // BELLATOR 299: Eblen vs. Edwards // 3Arena // Dublin, IRE
About BELLATOR
BELLATOR MMA is a leading global mixed martial arts organization featuring many of the best fighters in the world. Under the direction of veteran fight promoter Scott Coker, BELLATOR events take place in major cities worldwide and can be seen on television in over 160 countries to an available audience of over one billion people. In the United States, BELLATOR can be seen on SHOWTIME. BELLATOR is comprised of an executive team that includes top industry professionals in television production, live event orchestration, fighter development/relations, venue procurement, sponsorship creation/development, international licensing, marketing, advertising, publicity, and commission relations. BELLATOR is based in Hollywood, Calif. and owned by entertainment giant Paramount, home to the world's premier entertainment brands that connect with audiences through compelling content across television, motion picture, online and mobile platforms.

About SHOWTIME
Showtime Networks Inc. (SNI), a wholly owned subsidiary of Paramount, owns and operates the premium service SHOWTIME®, which features critically acclaimed original series, provocative documentaries, box-office hit films, comedy and music specials and hard-hitting sports. SHOWTIME is available as a stand-alone streaming service across all major streaming devices and Showtime.com, as well as via cable, DBS, telco and streaming video providers. SNI also operates the premium services THE MOVIE CHANNEL™ and FLIX®, as well as on demand versions of all three brands. SNI markets and distributes sports and entertainment events for exhibition to subscribers on a pay-per-view basis through SHOWTIME PPV®. For more information, go to www.SHO.com.

FOR MORE INFORMATION CONTACT:

BELLATOR
Danny Brener - (818) 577-8215 – [email protected]
C.J. Tuttle - (310) 496-9110 – [email protected]

BZA PR
Michael Fiedel - (954) 614-4121 – [email protected]
Jim Aguirre - (408) 394-0436 – [email protected]