CBS SPORTS NETWORK TO RE-AIR CLASSIC BELLATOR EVENTS AHEAD HISTORIC FEBRUARY 4th CBS NETWORK TELEVISION DEBUT
Post on , under News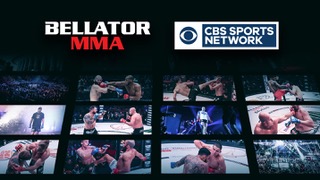 SLATE OF EVENTS TO INCLUDE BELLATOR STARS THAT WILL BE FEATURED AT THE UPCOMING BELLATOR 290: BADER VS. EMELIANENKO 2

Los Angeles — BELLATOR MMA and CBS Sports Network announced today that a slate of event re-airs will take place on the network in the leadup to BELLATOR 290: Bader vs. Emelianenko 2, the promotion's network television debut on CBS on Saturday, February 4.

Events featuring exciting performances from reigning BELLATOR Heavyweight Champion Ryan Bader and MMA icon Fedor Emelianenko, as well as longtime BELLATOR standout Brennan Ward highlight this incredible series of past BELLATOR shows.
Wednesday, January 11

BELLATOR 214: Bader vs. Fedor at 2 a.m. ET/11 p.m. PT

BELLATOR 237: Fedor vs. Rampage at 4 a.m. ET/1 a.m. PT.

Wednesday, January 18

BELLATOR 269: Fedor vs. Johnson at 12 a.m. ET/9 p.m. PT & 3 a.m. ET/12 a.m. PT

BELLATOR 140: Lima vs. Koreshkov at 1:30 a.m. ET/10:30 p.m. PT & 4:30 a.m. ET/1:30 a.m. PT

# # #

BELLATOR 214: Bader vs. Fedor

BELLATOR 214, which took place on January 26, 2019 in Inglewood, California, featured the Heavyweight World Grand Prix finals and the first meeting between Ryan Bader and Fedor Emelianenko. Henry Corrales and Aaron Pico traded fisticuffs at featherweight in a wild co-main event, while former pro wrestler Jake "Jack Swagger" Hager made his BELLATOR debut. The card also saw future BELLATOR Bantamweight Champion Juan Archuleta take on Ricky Bandejas.

BELLATOR 237: Fedor vs. Rampage

BELLATOR 237 took place on December 29, 2019 at the world-famous Saitama Super Arena in Japan, featuring two of the sport's most iconic fighters going toe-to-toe as Fedor Emelianenko battled Quinton "Rampage" Jackson in the headliner. Michael Chandler welcomed Sidney Outlaw to the BELLATOR cage in the co-main event. UK star Michael "Venom" Page, Lorenz Larkin, and Goiti Yamauchi were also featured.

BELLATOR 269: Fedor vs. Johnson

BELLATOR 269 was a stop on Fedor Emelianenko's self-proclaimed final run of fights, a momentous occasion on Oct. 21, 2021, where "The Last Emperor" returned to Russia to compete in front of his fellow countrymen against U.S.A.'s Tim Johnson. In addition to the main event, a heavyweight contest between former champion Vitaly Minakov and Said Sowma also emanated from VTB Arena in Moscow. Additionally, undefeated Usman Nurmagomedov faced Patrick Pietilä while Anatoly Tokov drew Sharaf Davlatmurodov in compelling main card matchups.

BELLATOR 140: Lima vs. Koreshkov

BELLATOR 140 saw multi-time BELLATOR World Champion Douglas Lima clash with Russian champion Andrey Koreshkov in a BELLATOR Welterweight Championship main event on July 17, 2015, from Uncasville, Conn. British welterweight great Paul Daley battled Dennis Olson in the co-main event, while heavy-handed welterweight juggernaut Brennan Ward challenged Roger Carroll elsewhere on the main card. An All-American wrestling matchup between Chris Honeycutt and Paul Bradley went down, as did a thrilling welterweight fight between Michael "Venom" Page and Rudy Bears.

# # #

Apply for BELLATOR media credentials
RSVP for BELLATOR virtual media availabilities

For more information on upcoming BELLATOR MMA events, visit BELLATOR.com.

Updated Schedule of BELLATOR Events
Fri. Feb. 4 // BELLATOR 290: Bader vs. Emelianenko 2 // Kia Forum // Los Angeles, CA

Sat. Feb. 25 // BELLATOR 291: Amosov vs. Storley 2 // 3Arena // Dublin, Ireland

About BELLATOR:

BELLATOR MMA is a leading global mixed martial arts organization featuring many of the best fighters in the world. Under the direction of veteran fight promoter Scott Coker, BELLATOR events take place in major cities worldwide and can be seen on television in over 160 countries to an available audience of over one billion people. In the United States, BELLATOR can be seen on SHOWTIME. BELLATOR is comprised of an executive team that includes top industry professionals in television production, live event orchestration, fighter development/relations, venue procurement, sponsorship creation/development, international licensing, marketing, advertising, publicity, and commission relations. BELLATOR is based in Hollywood, Calif. and owned by entertainment giant Paramount, home to the world's premier entertainment brands that connect with audiences through compelling content across television, motion picture, online and mobile platforms.

About SHOWTIME:

Showtime Networks Inc. (SNI), a wholly owned subsidiary of Paramount, owns and operates the premium service SHOWTIME®, which features critically acclaimed original series, provocative documentaries, box-office hit films, comedy and music specials and hard-hitting sports. SHOWTIME is available as a stand-alone streaming service across all major streaming devices and Showtime.com, as well as via cable, DBS, telco and streaming video providers. SNI also operates the premium services THE MOVIE CHANNEL™ and FLIX®, as well as on demand versions of all three brands. SNI markets and distributes sports and entertainment events for exhibition to subscribers on a pay-per-view basis through SHOWTIME PPV®. For more information, go to www.SHO.com.