"THE BRONZE BOMBER"
WINS: 42
LOSSES: 2
DRAWS: 1
KOS: 41
WEIGHT 226 lbs(102.73 kg)
HEIGHT 6'7"(2.01 m)
REACH 83"(211 cm)
BORN

OCTOBER 22, 1985

AGE

36

COUNTRY

USA

BORN IN

TUSCALOOSA, AL

TRAINS IN

TUSCALOOSA, AL
STANCE

ORTHODOX

ROUNDS BOXED

161

KO PERCENTAGE

91.11%

BOXING HERO

THOMAS HEARNS
DEONTAY WILDER BIO
Chiseled 6-foot-7-inch Deontay Wilder dropped out of college and turned to boxing in 2005 to support his daughter, who was born with spina bifida. He was a quick study, winning the U.S. Olympic trials in his 21st amateur fight and earning an Olympic bronze medal at the 2008 Beijing Games. Wilder capped his rapid ascent by capturing a share of the world heavyweight title in January 2015 and defending it an impressive 10 times.
Like countless other boys born and raised in Tuscaloosa, Alabama, Wilder always wanted to play football or basketball for his hometown University of Alabama Crimson Tide.
However, the 6-foot-7-inch Wilder's goals changed in 2005, when his daughter, Naieya, was born with spina bifida, a serious birth defect of the spinal cord.
A freshman at Tuscaloosa's Shelton State Community College at the time, Wilder left school and was soon working two jobs in order to support his daughter, who doctors said might never be able to walk.
In an attempt to earn more money, Wilder took up boxing shortly thereafter and was an extremely quick study.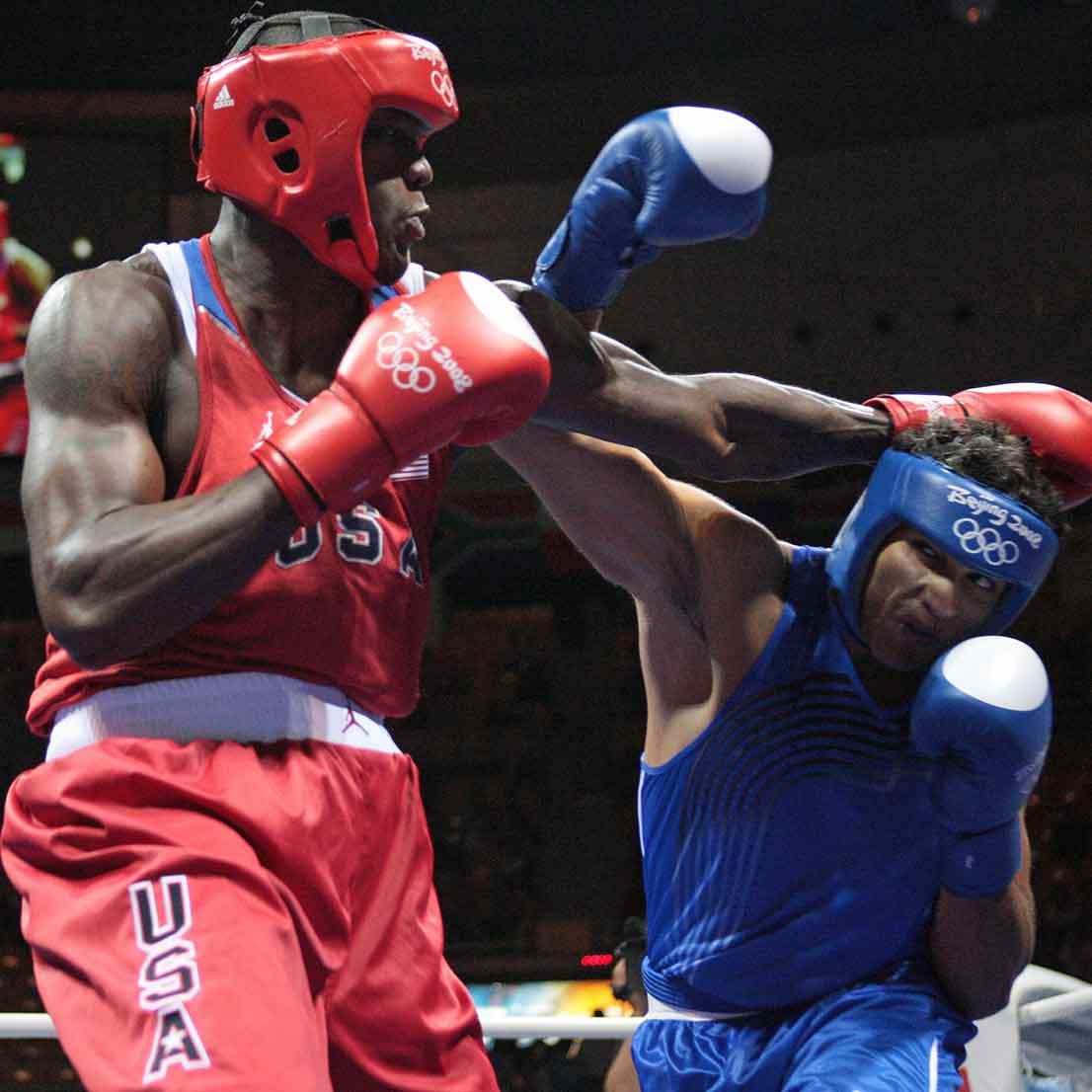 Deontay Wilder trades blows with Morocco's Mohammed Arjaoui during a quarterfinal match at the 2008 Olympics in Beijing.
FAST TRACK TO THE OLYMPICS
In 2007, Wilder won the National Golden Gloves title in just his 16th amateur fight and also won the U.S. amateur championship at 201 pounds.
He won the U.S. Olympic trials in just his 21st amateur bout, and earned a bronze medal at the 2008 Beijing Games. It was the only medal won by a U.S. boxer.
"His work ethic is incredible and he hits so hard," USA Boxing coach Dan Campbell said.
Wilder, a.k.a. "The Bronze Bomber," was simply following the lead of Naieya, who was walking by 2008.
"She's my inspiration," he said before the Olympics. "She's doing so many things that the doctors said she might not be able to do."
A STRONG FIRST IMPRESSION
Possessing tremendous punching power and an 83-inch reach, Wilder made his professional debut in November 2008, gaining a second-round technical knockout of Ethan Cox in Nashville, Tennessee.
Trained by former 147-pound world champion and 1984 Olympic gold medalist Mark Breland, Wilder made quick work of his first 22 opponents, defeating each of them within four rounds, including 14 in the opening round.
Wilder stepped up his level of competition in June 2012, facing former world title contender Owen Beck.
Fighting before a hometown crowd in Tuscaloosa, Wilder floored his opponent in the first and second rounds, and twice more in the third.
He was declared the winner after Beck failed to answer the bell to start Round 4.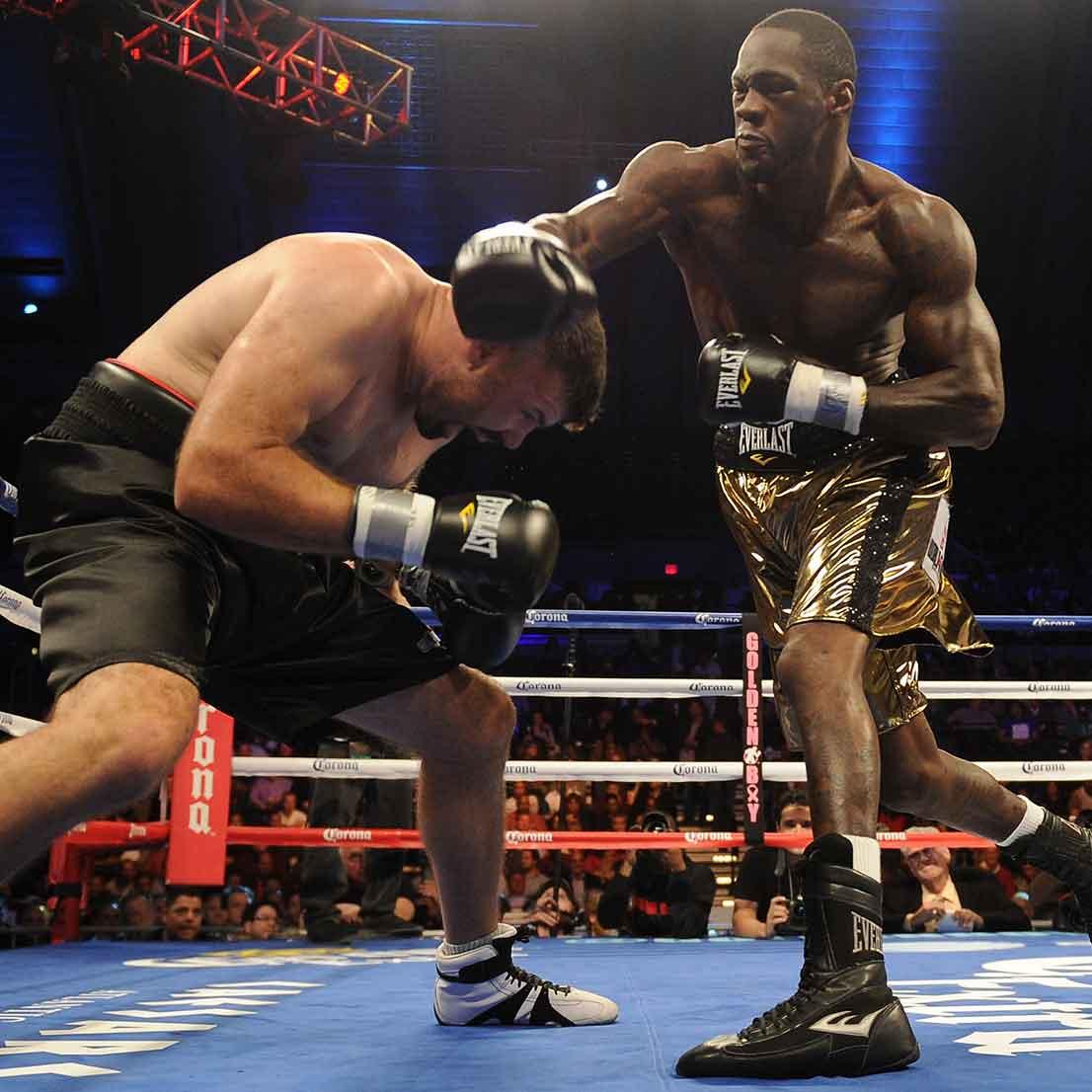 Deontay Wilder fires a right hand during his victory over Nicolai Firtha in Atlantic City, New Jersey, on October 26, 2013.
CLIMBING THE LADDER TO GREATNESS
Wilder defeated two straight unbeaten prospects in 2012 to establish himself as a fast-rising title contender.
He knocked out Damon McCreary, who entered the ring at 14-0, in the second round in Costa Mesa, California, in September.
Wilder then gained a third-round KO in December of Kelvin Price, who came into the bout in Los Angeles with a perfect 13-0 mark.
Wilder gained two more quick stoppages in early 2013, including a first-round TKO of former European titleholder Audley Harrison in Sheffield, England.
He then gained the biggest win of his career at the time in August 2013, knocking out former world champion Siarhei Liakhovich with a straight right hand in the first round in Indio, California.
Wilder ran his record to 30-0 in October 2013, knocking down Nicolai Firtha twice in the first round before finishing him off in the fourth in Atlantic City, New Jersey.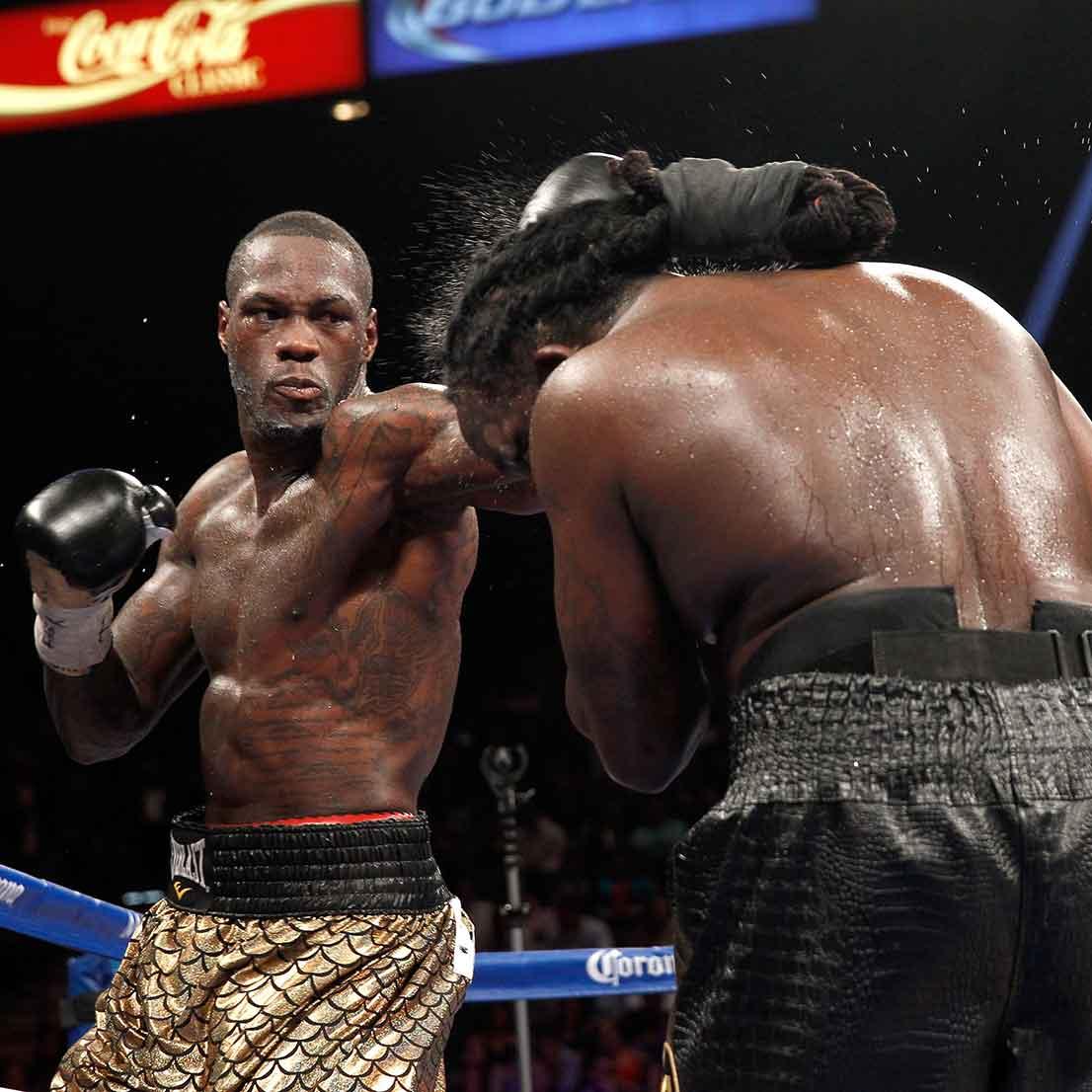 Deontay Wilder punishes Bermane Stiverne during their heavyweight championship fight in Las Vegas on January 17, 2015.
WINNING A WORLD CHAMPIONSHIP
Wilder put himself on the verge of a world title shot by easily defeating two opponents in 2014.
He gained a first-round KO of Malik Scott in Bayamon, Puerto Rico, in March, and then stopped Jason Gavern in the fourth round in Carson, California, in August.
The win over Scott made Wilder the mandatory challenger for the world championship held by Bermane Stiverne.
Wilder entered the title bout with Stiverne with a record of 32-0 with 32 KOs.
Fighting at the MGM Grand Garden Arena on January 17, 2015, which was also Muhammad Ali's 73rd birthday, Wilder controlled the action from the opening bell.
Wilder's superior reach prevented Stiverne from getting inside, and the Bronze Bomber came close to finishing off the champion in the second and seventh rounds.
Wilder failed to keep his KO streak alive, but easily won a 12-round unanimous decision to become the first U.S.-born fighter to hold a heavyweight title since Shannon Briggs in 2007.
Wilder vs Molina Highlights: June 13, 2015. (Showtime Sports)
BEGINNING A NEW KO STREAK
In what was a homecoming, Wilder stopped challenger Eric Molina on June 13, 2015, on a Premier Boxing Champions card on Showtime in his first title defense. Wilder knocked down Molina in the fourth round, then twice more in the fifth. To his credit, Molina kept getting back up. Molina even put a momentary scare in the Wilder faithful that filled the Bartow Arena, in Birmingham, Alabama by wobbling the champion in the third round. Once Wilder regained his bearings, he ripped into Molina, stopping him with a pulverizing counter right at 1:03 of the ninth round.
"To be honest, I definitely was surprised," Wilder said afterward about Molina. "It does my heart so good even just standing right here in front of him to say, 'This guy has got heart.' All of the critics doubted him. All the naysayers said he wasn't here to last, but I'm so proud of him and he has my support."
WELCOME BACK TO OLD TERRITORY
Three months after his initial title defense, Wilder dispatched Johann Duhaupas in 11 on September 26, 2015, from the packed Legacy Arena, in Birmingham, Alabama. The Premier Boxing Champions main event was the first heavyweight title bout on NBC in prime time in 30 years. Wilder was never threatened, though he did have some swelling that formed under his left eye in the second. Wilder finished off Duhaupas at :55 of the 11th.
"It's tough fighting at home because you want to entertain the crowd," Wilder said afterward. "The people come out and they paid their hard-earned money, so they definitely want to see a show, and didn't you all get a show tonight? Oh, my God."
Wilder vs Szpilka Highlights: January 16, 2016. (Showtime Sports)
ROLLING ALONG
Wilder upped his new stoppage streak to five with victories over Artur Szpilka, Chris Arreola and Gerald Washington. Against Szpilka, on a Premier Boxing Champions show from Barclays Center on Showtime, on January 16, 2016, Wilder showed great patience in whittling down the defensive zone the Polish heavyweight had built, through head movement and spacing. By the eighth, Wilder had closed the distance, setting up a monstrous right hand that flattened Szpilka at 2:24 of the ninth round. Wilder-Szpilka took place before 12,668, which at the time was the second-largest crowd to ever see a fight at Barclays Center (and eventually surpassed by the Keith Thurman-Shawn Porter 12,718 total in June 2016)
Fighting literally with one hand, Wilder outlasted Arreola on July 16, 2016, on a Premier Boxing Champions show televised on Fox Sports 1 from Legacy Arena, in Birmingham, Alabama, about an hour's drive from Wilder's hometown of Tuscaloosa. Wilder improved to 37-0, with 36 knockouts when Arreola's corner mercifully stopped the fight after the eighth round. What made this arguably Wilder's most impressive fight was the fact he broke his right hand in the fourth and fought with a distal tear in his right biceps.
It was Wilder's fourth title defense and third in Birmingham.
"My goal is to unify the division," Wilder said, then was taken to the hospital. "I'm one of the baddest, hardest-hitting heavyweights in the business. Right here from Alabama, baby. I came a long way. So whoever's got those belts, that's who I want. It don't matter if I got a broken hand, got a torn muscle, I'm going to fight like heavyweight champions do. I don't play boxing."
After undergoing surgery to repair his broken right hand and torn right biceps on July 29, 2016, Wilder was back in the ring on February 25, 2017, after a seven month layoff. Washington was staying with Wilder, who was tentative through the first four rounds in his return from surgery. Two of the three judges had it even after four. Then Wilder unfurled his right—one of the most lethal weapons in boxing—and down went Washington at 1:45 of the fifth before the Legacy Arena live audience of the Premier Boxing Champions primetime card on Fox.
"I knew he was going to come in excited to fight for a world title," said Wilder, who made his fifth title defense. "I just kept calm and found my rhythm. I knew he was going to tire out, and when he did I took advantage. It was all about timing. I'm very smart in the ring when it comes to using different tactics in the ring."
Showtime's Brendan Schaub talks with Deontay Wilder. (Showtime Sports)
A REMATCH WITH AN OLD FRIEND
Wilder's next bout was supposed to come against fellow undefeated heavyweight contender Luis Ortiz on November 4, 2017 at Barclays Center—but Ortiz tested positive for two banned substances forcing the bout's cancelation.
WBC mandatory challenger Bermane Stiverne stepped up to the challenge and promised things would end differently than their 2015 affair.
Wilder laughed off the notion and said he would actually retire from the sport if he lost.
"All I wanted to do is prove that I am the best and the best don't wanna fight, so what's the point of me being in this sport? If Bermane beats me … if he beats me, y'all don't have to hear about me no more. I'm done," Wilder said.
"That's how serious it is. It don't get no [more] serious than that. So let the games begin."
Wilder vs Ortiz Highlights: March 3, 2018. (Showtime Sports)
WILDER TAKES DOWN "KING KONG"
Wilder earned his sixth and seventh stoppages, both times at Barclays Center, over Stiverne and previously unbeaten Cuban Southpaw Luis Ortiz in the first- and 10th rounds on November 4, 2017, and, March 3, 2018.
Stiverne replaced Ortiz, who tested positive for two banned substances forcing the bout's cancelation, and was floored three times for the first-round KO. Wilder also dropped Ortiz once in the fifth and twice more in the last round of that TKO win.
"I'm ready right now. I always said that I want to unify," said Wilder, who is focused on an undisputed heavyweight championship match against British heavyweight champion Anthony Joshua. "I am the baddest man on the planet and I proved that tonight. This solidified my position at the top of the food chain tonight."
Wilder vs Fury Highlights: December 1, 2018. (Showtime Sports)
AN EPIC BATTLE OF KINGS
Deontay "The Bronze Bomber" Wilder and Tyson "The Gypsy King" Fury fought to a split-decision draw in their epic SHOWTIME PPV title fight on December 1, 2018 in front of 17,698 fans (including several Hollywood stars) at STAPLES Center​ ​in​ ​Los Angeles.
Fury (27-0-1, 19 KOs) miraculously overcame two knockdowns by Wilder (40-0-1, 39 KOs) — including an explosive one in the final round — in the improbable draw, which was the first heavyweight title pay-per-view bout in America since 2002. The judges scored the bout 115-111 for Wilder, 114-112 for Fury and 113-113.
"I think with the two knockdowns I definitely won the fight," said Wilder, who has recorded a knockdown in each of his 41 pro fights and was defending his WBC belt for the eighth time since 2015. "We poured our hearts out tonight. We're both warriors, but with those two drops I think I won the fight."
At the conclusion of the year, ESPN's World Fame 100 had Wilder at number 34 in the world, the top spot for any boxer.
As his fame rose and recognition increased for the American Heavyweight World Champion, Wilder began to break through as a major voice in the landscape of American athletes. His "To this day!" interview, conducted prior to the fight against Fury, broke out into a viral sensation and was reposted on social media across the globe, thus highlighting Wilder as an outspoken pillar of the sports world. Wilder was in attendance in 2018 at the Presidential pardoning of Jack Johnson, who was the first African-American heavyweight champion, beginning a lineage leading to Wilder today.
"THE BADDEST MAN ON THE PLANET"
Wilder proved once again that he is "the baddest man on the planet" on May 18, 2019 when he delivered a highlight-reel first round knockout of mandatory challenger Dominic Breazeale on SHOWTIME at Barclays Center. The knockout clip was viewed millions of times throughout social media and the internet and buoyed Wilder's rise in popularity and notoriety.
"Everything just came out of me tonight," Wilder said. "I know it's been a big buildup, there's been a lot of animosity and a lot of words that were said and it just came out of me tonight. That's what makes boxing so great."
WILDER KO'S "KING KONG"
Wilder's star power continues to grow. On November 23, 2019, Wilder met Luis Ortiz in a rematch of their wild March 2018 encounter where Wilder survived a rough seventh round to stop the dangerous Cuban technician in 10.
Further, by defeating Ortiz again, Wilder would tie Muhammad Ali in fifth place on the list for most consecutive title defenses as he sought to defend his title a tenth time. The bout took place at MGM Grand Garden Arena, live on FOX Sports PPV.
Again, Ortiz started fast, using his southpaw jab to keep Wilder on his heels and mixing up his attack to the head and body. The champion remained patient, pumping his own jab as he sought to create openings. It came with seconds remaining in the seventh. A beautiful one-two crashed off Ortiz's head and sent him crumpling to the canvas. Ortiz staggered to his feet, just beating the count, but referee Kenny Bayless wisely waved it off at 2:51, recognizing that the Cuban was unable to continue.
"I had to go in and out and finally I found my measurement," said Wilder. "I saw the shot and I took it. My intellect is very high in the ring and no one gives me credit for me. I think I buzzed him with a left hook earlier in the round and I took it from there."
A PRIVATE MEETING WITH THE POPE
On Friday, December 10, 2019, Wilder was named the Boxers' Representative and Ambassador for Peace through Sport by Pope Francis during a private ceremony at Scholas Occurentes headquarters in Vatican City.
Wilder joined Muhammad Ali and Riddick Bowe as the only American heavyweights to ever have an audience with the Pope.
"This was an incredible honor and I'm very happy to have met with Pope Francis,'' Wilder said. "I want to thank him for meeting with me. I also want to thank the WBC for arranging the visit and thank the Italian Boxing Federation for hosting me as I visited with the people of Italy. It has been one of the best experiences of my life. It proves that I plan on being a true heavyweight champion of the world."
AN EPIC TRILOGY
On Saturday, February 22, Wilder faced Tyson Fury again in one of the biggest bouts in recent years. The bout, a historic, joint FOX Sports PPV & ESPN+ PPV, occurred at MGM Grand Garden Arena in Las Vegas, Nevada.
The matchup of the world's two best heavyweights ended with Fury dropping Wilder once in the third and controlling the action until the bout was waved off in the seventh round. A third fight took place on October 9, 2021, at T-Mobile Arena in another joint pay-per-view. This one would go down in the history books as one of the greatest heavyweight title bouts ever to top what would be the most memorable trilogy in recent times.
In an incredible back-and-forth that included five knockdowns and countless exchanges, Fury retained his WBC Heavyweight World Title and lineal crown with an eleventh-round TKO win over Wilder in front of a raucous crowd of 15,820.
The action heated up in the third when a big Fury right sent Wilder tumbling to the canvas. The game slugger from Tuscaloosa, Alabama rose to his feet, surviving the follow-up until the bell rang moments later.

With Wilder on unsteady legs in the fourth, Fury pounced, looking to finish him off. But just when it appeared that the fight was about to end, the "Bronze Bomber" uncorked a perfect short right followed by another, driving Fury to the mat.
Fury made it to his feet but was down again moments later when another Wilder flurry floored him. The bell rang seconds after he got up.
Wilder started strong in the fifth, blasting Fury with more rights. The "Gypsy King" maintained his composure, digging to the body in close quarters.
The inside work slowly wore Wilder down. He was dropped again in the tenth from another Fury right and then a third and final time in the eleventh via a crunching right cross. Referee Russell Mora mercifully rescued the brave warrior, ending the fight at 1:10 of the round.
---